What's next for U.S Women's National Soccer Team?
They had their fans, their country's backing, and favorable odds. Yet they lost.
The United States Women's National Team (USWNT) experienced that feeling following their dramatic loss to Sweden in the quarterfinals of the 2016 Rio Olympics. After a tie of one to one in regulation, the USWNT ended up losing four to three in penalty kicks.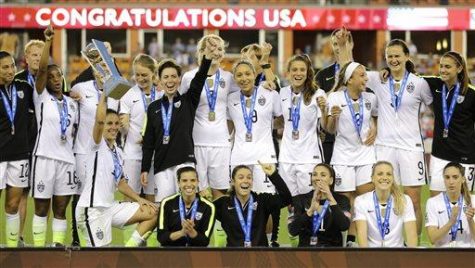 Due to a rather early ending for the powerful team, they were sent back home to the United States. The team's hopes of becoming the first ever to win a World Cup and the Olympics back to back had disappeared.
The United States has been successful in previous Olympics with gold medals in 1996, 2004, 2008, and 2012. However, their loss to Sweden was an eye-opener for many.
According to the LA Times, goalkeeper Hope Solo fired back at the press following the game with comments regarding the Sweden National Team's play in the match.
"Sweden dropped back. They didn't want to open play. They didn't want to play great soccer, entertaining soccer." said Solo. "It was a combative game. Exactly what they wanted. We had that style of play when Pia was our coach. I think it was very cowardly. But they won, they're moving on. And we're going home."
Jill Ellis, coach of the U.S. National team, had a different approach than Solo. She explained that the result was disappointing, but it was a learning experience. Now, her goal for the girls is to find ways to evolve as a team and to work even harder to achieve their future goals, said the LA Times .
Following her interview remarks, Solo was suspended for six months. Many questions such as "Will they come back from this?" and "Will the USWNT become the number one team again?" were circulating through the media.
Despite the suspension of their starting keeper, the USWNT began preparing for future Olympic and World Cup games by competing in matches. One of the top issues were open roster spots. With Abby Wambach and Christie Rampone retired, and Sydney Leroux and Amy Rodriguez unavailable, the USWNT had to bring new blood to the team.
Mallory Pugh, 18, is the youngest ever to be selected for the roster. According to Wikipedia, Pugh received the U.S Soccer Young Female Player of the Year and the Gatorade National Girls Soccer Player of the Year award. In January of 2016, Pugh became the youngest ever to play in an Olympic qualifying match. Also, while playing forward for the USWNT, Pugh is currently in her freshman year at University of California Los Angeles. She is playing both college soccer and national soccer.
"The soccer piece has been very, very good, and what I like about her is that she's come in, held her own and she doesn't get phased or rattled. She's a quality player, and she's a big part of this future in this program going forward." said Ellis. "It's not just bringing her in to get the experience, it's bringing in a player that can help us and impact the game." (USSoccer.com)
Slightly over a month after the loss against Sweden, the USWNT began playing friendly matches in September 2016. Coach Ellis made it her goal to challenge the players by playing against quality teams.
"It's a priority, and our federation knows it's a priority for our team because it's in those games where we will see growth from these young players," Ellis said.
Their first match was against Thailand, where the U.S. defeated them 9-0. In September, the U.S. went on to defeat the Netherlands 3-1, Switzerland 4-0, Switzerland 5-1, and Romania 8-1. (USSoccer.com)
With success in recent friendly games, Ellis explained that their goal until the 2019 World Cup and the 2020 Olympic Games is to simply continue to motivate the team and improve their mental and strategic game.
"They are going to want to go out there and prove themselves again and again, and that's what you need. You need players that are committing to wanting to improve and wanting to get better to get back on top. I actually think, retrospectively, while losing always sucks, this will be a springboard for great things ahead for us," said Ellis.