"You Can't Take it with You," so don't miss this play!
Hang on for a minute...we're trying to find some more stories you might like.
A family fun story with jokes, drama, and love will take the Hershey High School stage this weekend.
On Thursday, November 17 and Friday, November 18 at 7:00pm, "You Can't Take it with You," directed by HHS English teacher Michelle O'Brien, will be performed at Hershey High School. This is a show you won't want to miss, said Cara McErlean, senior at HHS. According to Maggie Lane, also a senior at HHS, the show has really come together since the first few rehearsals.
According to McErlean, they have been rehearsing since the middle of October. McErlean agrees with Lane that the show has come a long way since the beginning. After practicing for about a month, McErlean believes that this kooky show is finally ready for the stage.
O'Brien explained that the show follows the Sycamores, a zany, extended family who live in New York City.
O'Brien said, "This family really believes in embracing who you are and following your bliss."
The Sycamore's motto works out until one of their daughters, Alice, played by McErlean, brings home her snobby, rich fiance, Tony Kirby, played by Kodiak Thompson. Alice's parents, Penny and Paul Sycamore, played by Kelly Drobenak and Patrick Gavazzi, do not approve of Tony Kirby at first, but in the end love wins out, said O'Brien.
Other characters in the story include Alice's sister, Essie Sycamore Carmichael, played by Paige Randall, who is married to Ed Carmichael, played by Tommy Lane. Jacob Fahnestock plays the role of Mr. Vanderhof, Alice and Essie's grandfather, and Grand Duchess Olga is played by Maggie Lane. The play also includes some FBI agents and tax inspectors.
To see these characters take the stage and to see the plot unfold, come out and see "You Can't Take it with You" this Thursday and Friday at 7:00pm.
"It is [the play] sweet, funny, lighthearted, and the kids have worked really hard." said O'Brien, "We would love for the school to come out and see it."
About the Writer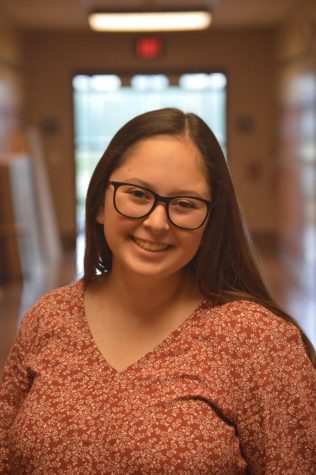 Tori Moss, Editor in Chief
Tori Moss is an editor in chief for the Broadcaster. She is a senior at HHS and has been a part of the Broadcaster for three years. Tori also enjoys musicals,...