HHS Boys Soccer defeats Mifflin County on Senior Night
Rachael Schirato, Brand Manager
October 26, 2016
Hershey Boys Soccer team shut out Mifflin County 5-0 on Tuesday, October 11, 2016.
Senior Alex Mitrovic scored the first goal at the 19 minute mark with an assist from senior Marek Mierski. Junior Quinn Tunnell scored the second goal. In total, the Trojans scored three goals before halftime and added two more after the break.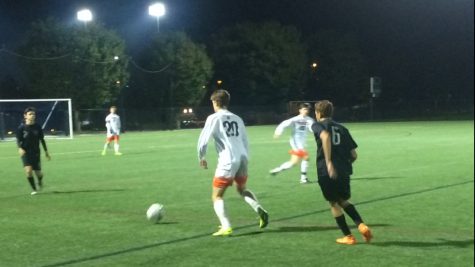 Co-Captain, senior Chris Leonard, had to leave the game early due to injury.
Spectators turned out to support the senior boys, who were honored with a brief ceremony prior to the game. The following seniors were honored: Chad Cocco, Max Dadswell, Josh DiPasquale, Chris Donegan, Chris Leonard, Bharat Maddukuri, Marek Mierski, Alex Mitrovic and Nate Wilson.
After the game Leonard said, "We socked them like the rock 'em sock 'em robots."