José Fernández's Number Is Retired Into Marlin's Hall of Fame
Rest in peace, Number 16.
José Fernández, a 24-year-old pitcher for the Miami Marlins, died on September 25, 2016, in a boating accident. Two of his friends, Eduardo Rivera and Emilio Macias, were killed in the accident as well.
According to USA Today, texts were sent between Rivera and a man named Will Bernal who told Rivera to keep Fernández close to shore and to turn on the "Find my iPhone" feature on his phone. Rivera had told Bernal that night that it wasn't Rivera's time yet – just before his passing in the accident.
Bernal had great sorrow from this tragedy that he took to his Instagram page to write about it.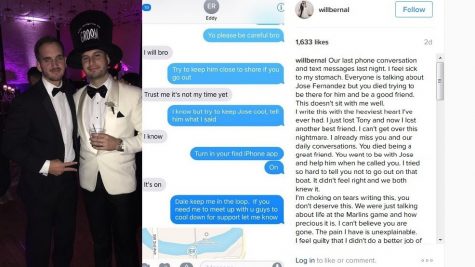 "The pain I have is unexplainable. I feel guilty that I didn't do a better job of trying to convince you not get on that boat," Bernal wrote on Fernández's death.
Bernal is not the only one grieving the late Marlin's pitcher. Fernández's pregnant girlfriend, Maria Arias, went to his memorial service along with Fernández's teammates. According to Hollywood Life, his teammates wore white shirts that read "RIP" and cried as they walked alongside the hearse carrying Fernández's casket. The entire Marlins team wore jerseys with Fernández's name and number on it the following Monday.
It was especially emotional for Dee Gordon who hit a leadoff home run to start the game against the New York Mets.
The situation for Arias was already bad with the passing of  Fernández, but to make it worse, Arias may not get any money to help support her child. If Arias is not named in his will, she will not receive any of the 6.5 million dollars he leaves behind.
Fernández made more money than the average middle class worker, but that is not what he will be remembered for. Fernández was "the future of baseball" according to Slate's executive editor, Josh Levin, because of his potential to become a hall of famer and because of his past.
Fernández was born in Santa Clara, and he was put in jail as a teenager for trying to escape the island because he was "being a traitor to Fidel Castro," according to CBS Sports. Fernández managed to escape the communist state when he was just 15 years old. During his escape, he saved his mother from drowning.
Once Fernández got to America, he went to Braulio Alonso High School in Florida, and he joined the school's baseball team. After High School, the Marlins made him a two-million dollar check to cover his signing bonus. Fernández was selected in the first round of the 2011 draft – the same year he graduated high school – but he didn't make his debut for the Marlins until 2013 and stayed with that team his whole career (2013-2016). In his first year, he started 28 games and had 12 wins and 7 losses.
In his second year he only started eight games, and in his third year he only started in 11 games. His fourth, and final year, was the his best year starting. He pitched 29 games, bringing his total amount of games started and played to 76. In those 76 games, he was given 38 wins and only 17 losses. Fernández had a total of 589 strikeouts, which makes him the fifth ranked pitcher in strikeout per nine innings ratio (12.4881) of all time, set in 2016.
Although his stats are impressive for his three year career, his love for the sport of baseball, and his affection towards fans is what people noticed about him.
Fernández, on multiple occasions, had some interactions with young fans. He saw a little boy, estimated to be about four or five years old by Miami Herald, crying in the stands while he was warming up before a game. He went over to the young boy and swapped autographs, the little boy taking Fernández's and Fernández taking the little boys even though the boy was wearing a hat supporting the opposing team.
On another occasion, Fernández made the day of an even younger boy. The young boy wrote a letter about what Fernández did for him which was posted to Instagram user Brian Schneider's page.
Buster Olney, a senior writer at ESPN Magazine, according to ESPN Media Zone, began covering baseball in 1989. Olney has been covering baseball for 27 years and for different magazines and newspapers, too.
On ESPN, Olney said that "In the time I've covered baseball, I've never met anyone who extracted more joy, more passion of what he did than José Fernández."
About the Writer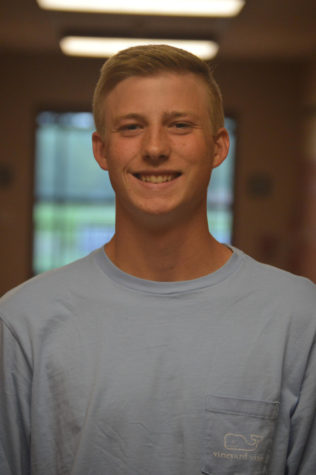 Evan Spinney, Reporter
Evan Spinney is a reporter for the Broadcaster. He is a senior at HHS and has been a part of the Broadcaster for three years. Evan also is on the Hershey...