Students Deploy into Future
By:Henry Isaacson
The sweat is dripping off of his face.  His arms burn and his body feels like a great stone is pressing him down into the dirt.
"Down. Up. Down. Up." A voice yells above him. Lieutenant Commander Mooney towers over the cadet and the others struggling to do pushups. His voice rings out loud and clear.  The message is simple, "Down, up, down, up."  There is nothing else for the cadet.
The cadet glances around the field, eyes squinting. The sound of his heartbeat booms with each movement he takes. He can taste the dust as it flies up into the air, covering his clothing. The other cadets are yelling in pain, breathing heavier, and heavier, and heavier.
The burning in his arms is too much.  They can not take it anymore and give way.  Hershey High School Freshman and Sea Cadet Mark Suminski collapses, exhausted. The Lieutenant Commander scribbles down a number.
Today's push-up test was just one in a long line of challenges Suminski will face on his journey to join the U.S. Navy.
High School is a time where students start to figure out their future. For the majority of kids, this means going to college and finding a career. But for others, this means living the life of service. This can mean two things: Waiting till college or later to start participating, or, starting as early as 11 years old. New programs have started to develop in order to prepare young people for the military. These programs stick teens in military like simulations and inform their participants on military based information.
Suminski has always held an interest in the military. It first sparked after a doctor's appointment. The doctor asked if Suminski has ever thought about joining the Navy. The idea immediately drew his interest. Soon Suminski was conducting countless hours of research and readings to gain as much knowledge as he could about the Navy.
Eventually Suminski decided he needed to do more than just read about the Navy.  His research finally led him to one program, the Sea Cadets.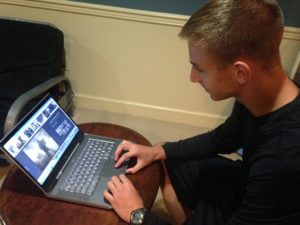 Sea Cadets is a countrywide, non recruiting program that teaches good citizenship, leadership, and self reliance. It has a yearly fee, but supplies each cadet with a uniform and a foundation for their military training. The only requirement for applicants is to hold an average GPA of a "C" or higher.
Sea Cadets carries many benefits. Cadets can receive a military advanced pay grade when they enter the Navy. Additionally Sea Cadets are eligible for 17 different scholarships.
For those interested in attending the U.S. Naval Academy after high school, there is an additional benefit to joining the Sea Cadets.  Over 10% of the students admitted to enter the Naval Academy in 2017 were Sea Cadet members. Suminski wants to apply to the Naval academy in the future, so the opportunity to get an advantage on his application was too good to miss.
During the Summer after joining Sea Cadets, it is mandatory that each member goes through recruit training. This two-week long camp focuses on Naval information, teamwork, and leadership.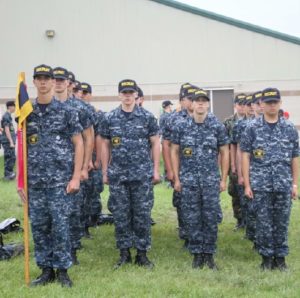 As Suminski completed his recruit training, he not only finished as Honor Cadet, but also as Guidon. The Guidon is a cadet who holds the division's flag during marches. The colors of the flag represent the division that the station lies in. There is one guidon flag colorway for each division.
Being a Guidon is hugely important because wherever the cadets go, they have to march. "There is no such thing as walking during drills," said Suminski.
"Both of these roles are very honorable and hold lots of respect," said Suminski.
Suminski also looks to keep progressing in Sea Cadets. He intends to take SCUBA Training, Combat Medic Training, and UCOIN (Urban Counter Insurgency). All of these trainings require one summer of recruit training.
Even though Suminski takes this long process into the Naval Academy, there are other ways of doing so.
HHS Junior Jake Hedrick also plans on going to the Naval Academy, but with fewer steps. Hedrick is not a part of Sea Cadets because of his age, but instead will apply for the Summer Seminar provided by the Naval Academy.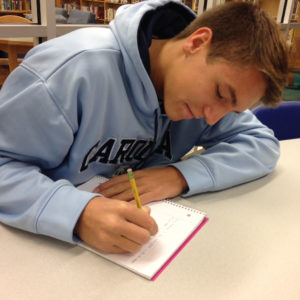 The Summer Seminar is a week long camp where the applicants who have made it will become temporary midshipman. As midshipman, the cadets will go through physical training, educational seminars, and teamwork activities.
Like Sea Cadets, Summer Seminar is an opportunity for young people to explore the possibility of enlisting in the Navy. Hedrick is still uncertain about his future plans. "I want to know the right reason for going there," said Hedrick.
This was not a problem for Suminski. Books such as Lone Survivor and The Warrior Ethos inspired Suminski to choose the Navy. Suminski has also always taking interest to the ways of the Spartans. "I was motivated by the thought of complete selflessness," said Suminski.
Inspiration is just half the battle. Heart and persistence is needed to be able to attack knew physical challenges; which requires training. There is a lot of preparation that takes place to become in the physical shape of a cadet.
During the Summer, Suminski averaged running 20 miles a week and completed daily calisthenics.  Suminski believes that calisthenics is an easy way to get fit, and trains by doing variations of pushups, situps, pullups, and other exercises.
Also through Sea Cadets, Suminski was always put to the test. Suminski and his cadets will have to endure physical tasks that mock those of instances in the military.
The school year didn't stop Suminski's constant work. As the school year began, Suminski averaged 35 miles of running each week, and would wake up as early as 5:00 am to do a morning exercise.
The military is not only physically grueling but also requires mental toughness. HHS teacher Eric Barber knows the physical and mental demands of military service. Barber, an Air Force National Guard aircraft mechanic, said that no matter which branch enlistees enter, there will be physical training.
For Barber, mental toughness is extremely important in the military. Barber joined at 22 years old and found there was a "clear advantage over the 17 year olds because of my mentality from being older."
However, Barber was not against the idea of starting early. Barber was actually in support of it. When Barber was in highschool, there were not many programs, and the few that did exist weren't that popular. Barber said today's youth programs are great because "they get kids in the right mindset for the military."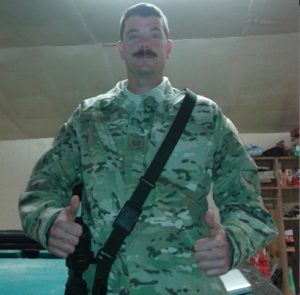 When Barber looks back in life, he would've liked a program that would have shown him his options. "I never really had a focused area that I thought I'd be good at," said Barber.
Because of not knowing where to start, Barber had to wait till the end of college to start the Air National Guard. Looking back over an 18-year career, Barber wished he could have served in those four years.
Suminski agreed with Barber in that getting in the right mindset is very important for the military. Suminski believes that he is already in good physical shape, but that these programs will show him how to deal with problems and how to be a leader when he joins the Navy. Suminski said he believes the best thing for him to do now is to "keep getting more involved in Sea Cadets."
Suminski said he believes he has the right mindset and perseverance because he is always inspired. Military photos and quotes are hung up right next to where Suminski trains, so he can always remember why he is training so hard.
Like Suminski, HHS Freshman Zach Hagan has looked to others for support and inspiration. Hagan wanted to follow in his brothers' footsteps by also attending the Naval Academy as they had in the past. Hagan's oldest brother graduated in 2015, and the other is still a freshman. Hagan saw how much effort and work his family has put into the military.
"I have no right to give any less than they did,"  said Hagan.
Hagan always knew that the military life was for him, but he also plans on making the Navy his career. After Hagan has graduated from the Naval Academy, he plans on making a career of the Navy as either a medic or perhaps as a SEAL. "There's no sense in dipping your toe in and then leaving," said Hagan.
Hagan also agreed with Barber and Suminski in that the military requires both mental and physical willpower. During both service and training, Hagan said members "push themselves to the brink physically, which requires mental toughness."
While willpower is important for military service members, it is not inexhaustible.   PTSD or Post-Traumatic Stress Disorder affects over 5 million American Citizens yearly. Over 20% of the Iraqi war veterans and nearly 31% of the Vietnam War veterans suffer from PTSD.
PTSD is a chronic disorder that can last a lifetime. It usually occurs from viewing a terrible or tragic incident. PTSD can affect the person with flashbacks of the incident, memory loss, bad dreams, and frightening thoughts.
PTSD is such a dangerous disorder because it can start at any age. Even the loss of a loved one or stress from an incident can trigger PTSD.
Luckily, there are still many soldiers who walk away unaffected. Hagan has never worried about it happening to him, and all of his family members who have served have never suffered from PTSD.
Suminski believed that it is hard to think about PTSD because there is no way to put yourself in the mindset of someone who suffered through it from the Military.
"There is no possible preparation for losing someone you would literally give your life for," said Suminski.
Even though PTSD is a huge problem with today's veterans, the youth must look past it. They need to do everything they can to become successful in the Navy.
Sea Cadets, although helpful, isn't the only thing needed to succeed in the Navy. There is always more room for improvement and work. Suminski does everything he can to prepare himself for the Naval Academy.
Suminski feels that grades, SAT scores, leadership,volunteer work, and sports are also very important. As a freshman, Suminski is already working on SAT practice books and assignments, even though the typical requirement is to start studying over the Summer before Junior year.
Grades are also a key part in attending the Naval Academy. They want to see kids who understand what it means and takes to be a good citizen. Not only is Suminski a straight "A" student, but he has also attended the STEM camp through the Naval Academy to improve and expand his knowledge.
Good grades, knowledge of the Navy, and experience through Sea Cadets will guide Suminski to a successful career in the Navy.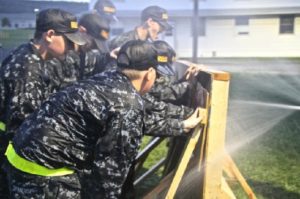 Suminski stands. His arms scream with pain. Toes still numb from being curled and crunched into the ground. Suminski takes a step back. He thinks to himself why? Why is he spending his Sunday morning standing in a dirt field miles from his home drenched in sweat?
But then he realizes that it is what he has to do.
It is Suminski's duty to give back to his community. Suminski has to leave. He has to leave to serve.
He has dedicated himself into the military. Suminski has to prove it to himself that he can live the life of service. Today was just another step toward that life of service.