Community Day: Vinyl Revival
A trend from the past is proving it's not just a one-hit-wonder.
Vinyl records are back, and one HHS teacher brought them to students at the Second Annual Hershey High School Community Day. Students in the vinyl revival session learned about vinyl collecting, record art, and the future of records at HHS.
Matthew Swavely, HHS physics teacher, started the session to provide interested students with a way of getting into vinyl collecting.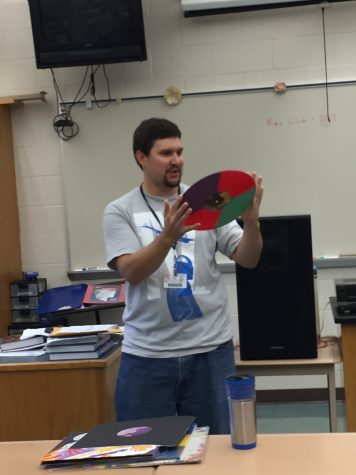 "I'm not gonna talk too much because the fun part is actually listening to the music," he said at the start of the first session.
Swavely initially played Led Zeppelin's self-titled first album for the session's 19 attendees, but later admitted, while holding up their record Clockwork Angels, that Rush is his favorite band of all time. Swavely said that not all records are old, and that a lot of new bands are releasing their work on vinyl.
"I have roughly 1,500 LPs and 400 45's…but we could probably round the 45's up to 500," Swavely said.
He said that records can be expensive, but they don't have to be.
Swavely's turntable, speaker, and receiver set-up, which permanently resides in his classroom, only cost him $75.
As far as the records themselves, Swavely says that some limited edition records can cost upwards of $60, but most are around $20.
He recommends visiting flea markets and thrift stores to get records for cheap. He bought an original pressing of  Pink Floyd's The Dark Side of the Moon for just $15. However, it took some searching. He listed some local spots to buy new vinyl such as 2nd and Charles, but said that these records can often be overpriced.
Swavely recommends eBay for buying cheap, but with a warning that sellers may not always be honest about the condition of the records or equipment.
The cost is worth it in Swavely's eyes, as the physical record can also come with a digital download code. It's buying two copies of a record in one.
"If you buy a $10 digital album, that money's gone," Swavely said.
He explained that records in good condition can often hold their value, so one can end-up selling them years later and make back what they paid for them. No one's buying digital files from people, he said.
That being said, Swavely isn't anti-digital music.
"Records aren't portable, they're heavy. I have an iPod that I can hook-up to my car," he said.
Another thing a buyer doesn't get on digital is something Swavely really enjoys: the album artwork.
"They're making the whole album presentation about the art," Swavely said.
He said that listeners are getting a really nice piece of artwork on an album cover. So good that he said many people frame them.
First session attendee Ethan Fox, a sophomore, chose the session because he has a collection of his own and likes the hands-on nature of vinyl.
Beyond Community Day, Swavely said he would love to start a record club with enough student interest.
Swavely is jealous of his brother: "He started one at his school and he keeps telling me about it," he said.
About the Writer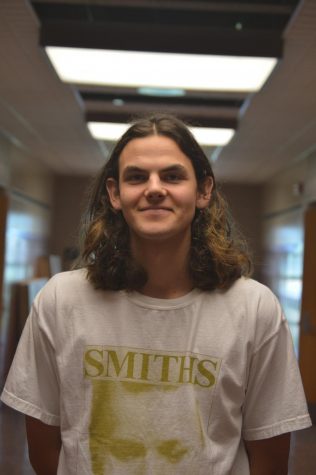 Jack Goulet, News Editor
Jack Goulet is a news editor for the Broadcaster He is a senior at Hershey High School and has been a part of the Broadcaster for three years. Jack also...