HHS Athletes Navigate Division I Recruiting Process
Hang on for a minute...we're trying to find some more stories you might like.
Their journey to college athletics began with the simple love of the game.
Senior Ali Cronin took up field hockey in second grade and is headed to Georgetown next fall.  Sammy Steele loved hockey the moment he began and heads to Arizona State in two years.  Hershey High School's Athletic Director Scott Govern's love of football took him to Lock Haven. Sophomore Mark Sickler's love of lacrosse is taking him to West Point in 2019.  For all of these athletes, the love of the game set them on the path to college athletics.
The passion of the game is not only shared by these few athletes but also other Hershey High School students. In the last year at HHS, 352 students played fall sports, 170 played winter sports, and 294 played spring sports. Out of all of these athletes, many of them have come face to face with the question of if they should try to be recruited or not.
According to Avi Stopper, a college sports recruiting expert, "typically the best time to start is late in your sophomore year or early in your junior year of high school,"
Although Stopper suggests starting to be recruited junior year, that was not the case for Cronin. Cronin was recruited in September of her junior year to play field hockey at Georgetown, and said she felt "overwhelmed" and "pressured" throughout the process.
"I always loved playing field hockey, and it made me happy," said Cronin. The moment Cronin accepted the offer to Georgetown she said she felt immediate relief.
Sammy Steele was recruited his sophomore year in high school to Arizona State University on April 26th, 2016. The most difficult part of the recruiting process for Steele was missing school for hockey.
"I missed a lot of school because of hockey and having to travel around," said Steele.
For Sickler, the love of the game also propelled him to his path of Division One lacrosse.
"I chose to play Division 1 lacrosse … because I love the game and it is a goal of mine to be playing at the top level," said Sickler.
Sickler started playing lacrosse in first grade and has enjoyed the game ever since. His journey of being recruited started his freshman year in high school.The recruiting process started when college coaches started to come watch Sickler play lacrosse at tournaments. This led to various offers, visits, and meetings with college coaches interested in him to play for their university.
In addition, Scott Govern, Hershey High School athletic director, committed his senior year of high school. He played football at Lock Haven University, a  Division One college. Govern's love of football began very young.
"I remember when I was five years old, my brother and I had a neighborhood friend who asked us to come play football," said Govern.  The youthful love of the game gave way to making plans for college and with it came many stresses.
To Govern the most stressful part about being recruited is making the decision to commit to the school and wondering if the school is right for you or not. Additionally, many colleges apply pressure to make a decision to commit to their school as early as possible, said Govern.
Govern said, "Athletes worry about where they are at, how many colleges there are to pick from, and to see how they are going to match up with the college."
About the Writer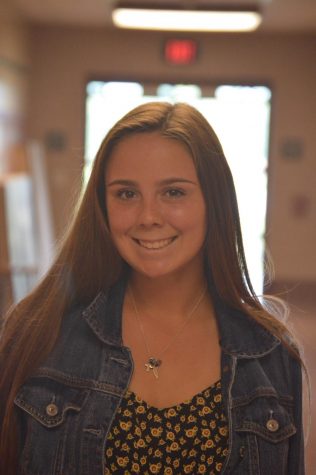 Elaina Joyner, Reporter
Elaina Joyner is a reporter that specializes in photography. She is a senior at Hershey High School and has been a part of the Broadcaster for three years....