HHS Rivalries Continue Long Reign
Years go by and a rich tradition lives on in the games played by Hershey High's sports teams.
Rivalries among sports teams date back decades for many high schools across America. Hershey athletics staff and student athletes touch on what makes a rivalry, how the rivalry affects their game, and how they're still around today.
Having previously been the athletic director at Spring Grove and Boiling Springs, Hershey High School Athletic Director Scott Govern describes those schools as being more of an intense experience when it comes to rivalries. The rivalries between Spring Grove and Southwest were so intense that police were needed to stand watch at the games.
Govern said Hershey is nothing in comparison to Spring Grove. While he's only been the Trojans' athletic director since December of last year, he hasn't had to deal with anything near the level of Boiling Springs or Spring Grove.
When speaking on Hershey High's rivalries, Govern said that Lower Dauphin and Palmyra are the two biggest when it comes to every sport. However, certain sports will have different rivalries with other schools. He finds that proximity and competition are the main reasons for choosing any school's rivals.
Govern said the rivalry between Hershey and LD doesn't affect the relationship between the  athletic directors at both schools. In fact, Govern admitted, he occasionally goes to breakfast with Lower Dauphin A.D. David Bitting. They mostly talk about how they wish their kids would behave when the two teams play each other.
If things do get out of hand, Govern said he will not hesitate to ban the person from sporting events. This goes for all games, not just against big rivals.
"I think some of our kids don't think Palmyra is [our rival], but they don't like us and that's very evident," Govern said.
Michael Abruzzo, HHS junior and student athlete, also feels that Palmyra is a rival, but not to the level of LD. He agrees that proximity and the level of competition [cross country meets against LD, where the winner is determined by only a few points] are major factors in a rivalry.  
Abruzzo has seen his fair share of rivalry games.  He has been playing high school baseball and running for the cross country team for the past three years at HHS. According to Abruzzo, a night home baseball game every year between the Trojans and the Falcons is a highlight of the season. He added that the big crowd and the opponent make the game special.
As far as the motivation factor for these big games, Abruzzo said "Nothing motivates a team more than the fact that the opposing team has a deep history with [their team.]"
But why is playing a rival team more motivating?
Abruzzo said it's all about bragging rights. In his opinion, it gives the winning team an edge over their rival until the next time they play one another. He furthered this by saying that without rivalries, games have no point, they're just a win or loss in the scorebook. Abruzzo thinks the fierce competition makes the games interesting in the first place.
As far as the more intense rivalries, Abruzzo said, "They turn an innocent game into a playoff atmosphere where stakes seem to be on the line, adding to the competitiveness of each and every player during the game."
Competitiveness can often translate into off-field arguments. While Abruzzo said he has never witnessed a physical altercation, he has heard of teammates using Twitter to trash talk opponents.
Social media has introduced new ways for players to communicate, but are these just words among rivals, intending to pump each other up for the big game?
Sophomore soccer player Katie Cocco said that trash talking occurs occasionally in her sport. She also added that the rivalries in girls' soccer are just as big as in boys' soccer. She views rivalries as a fun way to meet new people, but still said that games against LD and Palmyra are more fierce.
In big games like the Mid-Penn championships, Cocco said that the competition is definitely more intense.
As far as other big sporting events involving HHS, the Cocoa Bean football game occurs annually against Milton Hershey. Football is the only major event the schools are competitive in, since the Bean is the only game the teams play each other. The game has been a tradition since 1943, where Hershey won the first bout 14 to 7. This year marked the 74th anniversary and Milton Hershey took the victory 46 to 7.
So what in the end has changed? In reality, not much.
Abruzzo said that the competitive relationship he formed with rival schools over the years added to their long history.
"This extra history fuels my motivation to beat [rivals] even more as time goes on," Abruzzo said.
About the Writer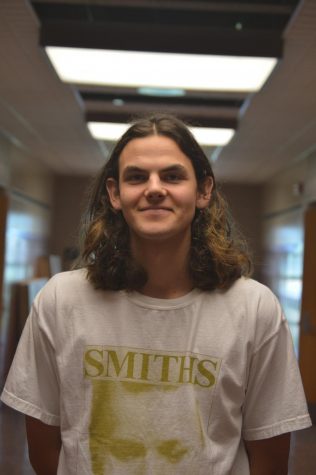 Jack Goulet, News Editor
Jack Goulet is a news editor for the Broadcaster He is a senior at Hershey High School and has been a part of the Broadcaster for three years. Jack also...