Hershey High Welcomes Two New Exchange Students
Camille Heck, Reporter/Copy Editor
September 28, 2016
Leaving the family and culture they know, exchange students volunteer to be plunged into the unknown.
Hershey High School has a history of exchange students. This 2016-17 school year, HHS has welcomed two new exchange students, both from faraway nations. Theo Nunes, from France, and Nancy Yijing Chen, of China, are both being hosted by families in Hershey for a period of their stay in America.
As of 2014, the United States boasts roughly 24,000 high school exchange students, according to the Institute of International Education. The majority of these 24,000 come from Europe, much like new HHS student Theo Nunes. Nunes is from France and made his way to America through the Hershey Rotary Youth Exchange. Coming from a far different background, Senior Nancy Yijing Chen hails from China.
Although Yijing Chen and Nunes are from vastly different places, they can both agree on one thing: being an exchange student is one of the best decisions they've ever made. Nunes said it made him become more sociable and put himself out there more. Yijing Chen echoes these sentiments, saying that she's also learned to be more open and friendly. After being in Hershey for only about a month each, they can both agree that America is a welcoming place for them.
As Nunes said, "People are very sociable, so if you have any trouble, you can just ask if they can help you."
However, being away from the country you know isn't easy, and there are some things that these students miss. Yijing Chen and Nunes both say that what they miss most is their food.
According to Nunes, the food from his home is extremely different from what he's eaten here, and as he put it, "I miss my baguettes."  
Other things missed are friends and family, said Yijing Chen. For Yijing Chen, she misses her friends more than her family. Nunes said that, although he misses his friends, he has started to make a new family in Hershey. According to him, it can be difficult at first, both to live with a family you barely know and to make friends because of the fact that he has had to put himself out there first. Joining clubs and sports can help making friends easier, said Nunes, who is a member of the HHS Cross Country team.
Yijing Chen agreed and said, "People here are so friendly. You meet a stranger, and the stranger is so friendly, and so happy."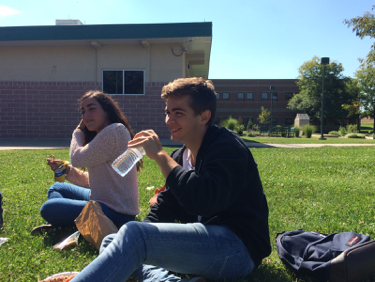 While there are a few things that he misses, one thing Nunes is grateful for is the change in school. When asked, Nunes said that school in France is very different than in America. In France, he says, teachers are very professional with students and maintain a respect based relationship. Nunes said that he prefers the friendly teacher-student relationship in HHS. Yijing Chen agreed that school in America is very different from the school she has always known.
"Student schedules are so different in China. We don't have day one , day two, etc., and we don't change classes in China. We just have one teacher and one different class," Yijing Chen said.
Susan Steadman, president of the Hershey Rotary Youth Exchange, shed a different light on the lives of exchange students. Working with the Hershey Rotary, Steadman has assisted countless students who are living or returning from living abroad. She said that although students and particularly parents may have concerns at first, studying as an exchange student is a great learning opportunity. Steadman stated that living abroad can help students to mature and learn important life skills.
Steadman said, "There are real concerns, but it's all part of life. So it's a great life experience, and I think it just makes you grow up a little faster than if you stay here in the Hershey bubble."
And a great life experience it is, according to Hershey's resident exchange students. Both Yijing Chen and Nunes said that living abroad has been a great decision for them. Nunes confided that, in his time at Hershey, he has learned to be more sociable, as well as accept differences more. He said that without even realizing, being an exchange student has changed who he is for the better.
As Steadman said, "Everyone who's done it has come back and said it was a phenomenal experience."