Hershey Mini-THON Fundraises in Fall
Hang on for a minute...we're trying to find some more stories you might like.
Twenty-three years to raise $700,000, all in an attempt to end childhood cancer for good.
Hershey High School has been fundraising for over two decades to help The Four Diamonds fund. Their goal is to find a cure for pediatric cancer. During the last 23 years, the student run Mini-THON at HHS has raised over $700,000.
The Four Diamonds Fund assists the fight against pediatric cancer by funding research, helping families pay medical bills, and providing a support network for the families affected by childhood cancer. The Pennsylvania State University THON and the hundreds of Mini-THONs at schools around the nation have raised over nine million dollars each year to support the Four Diamonds Fund. Hershey High School hosts one of those Mini-THONs.
The Four Diamonds Fund was created by Charles and Iran Millard to raise money to fund research in attempt to end childhood cancer in 1972.
Five years later, Penn State University hosted their first THON, a 46 hour dance marathon.  THON's primary goals are to help fundraise for and raise awareness for The Four Diamonds Fund. Since 2010, THON has raised over $136 million.
THON has helped millions of children across the nation, including HHS graduate Cole Benovy. He was diagnosed with Acute Myeloid Leukemia in 2012 when he was 17. Without assistance from The Four Diamonds Fund the Benovy family would have had over two million dollars worth of hospital bills. Because of the financial aid provided by The Four Diamonds Fund, the Benovys didn't have to pay a cent.
"Because of what The Four Diamonds Fund does, [ Cole Benovy] is happy and healthy today. I'm forever grateful for the amazing things they did for Cole and for other children like him, Benovy's sister Mason, a current senior at HHS and a member of the Mini-THON club, said.
There are 235 schools across the nation who host a Mini-THON every year including HHS. Since 1993, HHS has hosted a 12 hour dance marathon fundraiser, similar to Penn State's THON, trying to raise money for this cause.
Charles Millard approached HHS 23 years ago to create the very first high school Mini-THON. Hershey High School has hosted a dance marathon fundraiser every year since. Elizabeth Blosky, co-advisor of the Mini-THON club, guides the Overall Chairs and club members in the right direction to reach their goal of trying to raise more than last year's grand total of $47,000.
The spring fundraiser isn't the only way Mini-THON raises money. The event in Spring raises the most money and has the highest attendance of the HHS Mini-THON fundraisers. However, the students in charge of the club have started raising money well in advance.
"It may be difficult, but our goal is to try and have at least one restaurant fundraiser and one other fundraiser a month. We're planning a fundraiser at Issac's on the 20th of September," Blosky said. With this goal in mind, the HHS Mini-THON club is planning three events for September and many more during the rest of the fall.
The small Isaac's food fundraiser was held on September 20th, 2016 from ten in the morning to four in the afternoon. Twenty percent of all of the money made during that time went to the HHS Mini-THON fund.
Brenna Beck, HHS senior and one of the four overall chairs on the Mini-THON committee, said that to make a food fundraiser possible an incredible amount of work must go in, and if the students and families of HHS don't attend, it
becomes redundant.
She stressed that she wishes more HHS students would help gain support for the fundraisers. According to Beck, there are many things HHS can do to to help raise more money this year. "Go to Mini-THON, go to the fundraisers, get your family involved. It's such a great cause," Beck said.
Benovy agrees that more people should get involved. She said THON is one of the best things HHS does, not just for the students, but for the greater good.
About the Writer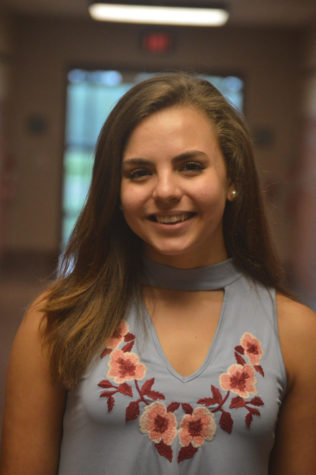 Anna Levin, Co-editor of Kiss & Tell
Anna Levin is one of the co-editors for Kiss & Tell.  She is a junior at Hershey High School and has been a part of the Broadcaster for two years....