Red Nose Day works for laughs and end to poverty
By: Shanna Sweitzer
No, this isn't a fancy name for Clown Day.
This year, Red Nose Day, is celebrated on Thursday, May 26th. Red Nose Day is a fundraising campaign run by a non-profit organization known as Comic Relief Inc. Comic Relief Inc. is an American public charity and independent sister organization of Comic Relief UK. While they are independent organizations, both have the same vision of a "just world free from poverty." They also share the mission to "effect positive change through the power of entertainment."
"Our Vision is: A just world free from poverty, " the organization's website said.
Last year, Red Nose Day's funds benefitted children in all 50 states and 15 countries internationally. This was achieved through programs to keep children and young people safe, healthy, and educated.
"Half of the money distributed by Red Nose Day 2016 will be spent right here in the U.S. The other half will be spent in some of the poorest communities in Latin America, Asia, and Africa," said Red Nose Day's website.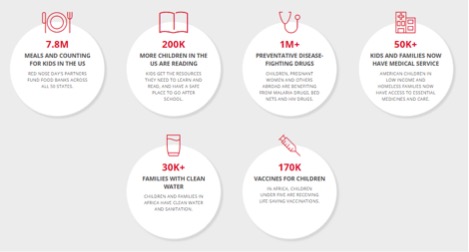 So why the nose? "It's funny. And fun. Sharing a laugh brings people together," said the Red Nose Day website.
"Our Mission is: To drive positive change through the power of entertainment," the website, also, said.
While Comic Relief has formulated fundraising campaigns like BA Flying Start and Idol Gives Back, Red Nose Day is the UK's number 1 television fundraising event. In its 25 year history, Red Nose Day has raised over $1 billion.
In May 2015, Red Nose Day came to America for the first time live on NBC for a special. On the program, celebrities like Jimmy Fallon, Will Ferrell, Julia Roberts, Paul Rudd, Jennifer Aniston, Matt LeBlanc, Blake Shelton, Jack Black, and more come together for pure entertainment and encourage viewers to donate to the cause. Here's a video of last year's highlights: Red Nose Day 2015.
Tune into NBC on May 26, 2016 at 9/8c for a 2-hour television event that's a ton of laughs and for a great cause.