Hershey High School presents Winter Concert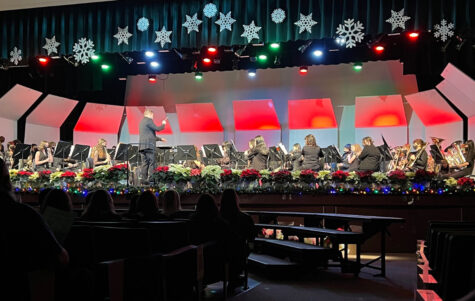 The Hershey High School band, orchestra, and choir put on their annual winter concert on Wednesday, December 8th 2021.
The event had a very good turnout, with the 1,200 person auditorium nearly reaching its full capacity. 
First to perform was the band, led by Brandon Buterbaugh. Consisting of 92 students from 9th to 12th grade, the band performed four songs, including "The Eighth Candle," "Midnight Sleighride," "Christmas Day," and "Christmas Lights."
Conducted by Joseph Farrell, the choirs performed three songs. "Ascendió Deus" and "Little Innocent Lamb" were both performed on the stands at the front of the auditorium, but "Set Me As a Seal" was presented with the choir standing in a circle around the auditorium, creating a mesmerizing sound.
Following the choirs, the orchestra performed their three songs. Led by Brian Buterbaugh, the first song played was "Dashing Away". After, "Allegro non troppo" was performed, featuring soloists Bryant Liu, Leo Liu, and Alicia Xie. This song is the winter piece from The Four Seasons. The orchestra played the fall piece back in October, and will be playing the spring and summer pieces in two of their later concerts. Closing up the orchestra portion was the song "The Polar Express".
The final performance of the night was "A Christmas Festival," a mashup of many popular Christmas songs performed by both the band and the orchestra.