Homeless man becomes first inhabitant of 3D printed house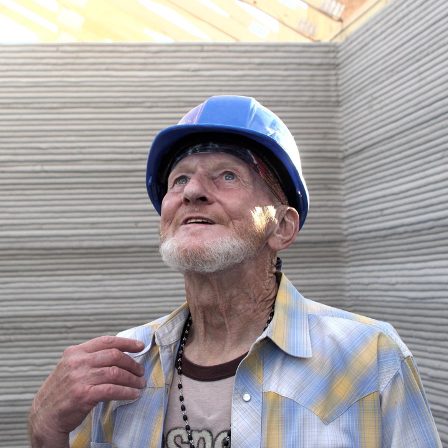 Tim Shea, a now-formerly homeless man from Texas, has become the first person to live in a 3D printed house. 
The 400-square-foot home was built by ICON's Vulcan II printer. ICON is a company dedicated to revolutionizing home building through advanced construction technologies. The building contains one bedroom, a full kitchen, one bath, a living room, and a large porch. ICON works in partnership with Mobile Loaves & Fishes (MLF), a non-profit that works to help the homeless community, to create a solution to homelessness. 
The house is located in the Community First! Village, a development in Austin,Texas, featuring more than 500 homes for those who come from chronic homlessness. 
Founder and CEO of Mobile Loaves & Fishes, Alan Graham, said, "Vulnerable populations like the homeless are never among the first to access leading-edge anything, but now here in Austin, Texas they're among the first in line who will be living in some of the most unique homes ever built—and we think that's a beautiful thing."
ICON has developed 6 different 3D homes, each possessing a different layout. Shea chose to have an open floor plan to cater to his arthritis. Others like Tim pay $300 in rent to live in the village, which also offers on-site job opportunities. 
Speaking with the New York Post, Shea said the home provides him with, "a sense of security. I feel like I am embraced in this house. …  I just love sitting in there and looking at the interior of it. It's just a very comfortable, very warm, welcoming place, and I am so proud to be living in it."