10 everyday eco-friendly products worth a try
Environmentally safe products are becoming more common as millennials and gen Z customers are hoping for a more sustainable lifestyle. While there are many products out there that are safe for the planet, we should start with daily products first because they are used the most, so here are ten everyday eco-friendly products that everyone should try.
We use toothpaste everyday and not only is the packaging bad for the environment but the ingredients are too. By switching to Bite toothpaste, you can get rid of the tube and bad ingredients. The bits come in a reusable glass container, and with a subscription you will receive new bits in a compostable bag automatically every four months. Also, the bits are made with vegan friendly ingredients such as coconut oil, guar gum, and xylitol. Switch to Bite toothpaste for a healthier planet.
The humble toothbrush is from The Humble Co. It is developed by a team of dentists to ensure it performs effectively. The brush is environmentally friendly because of its 100% biodegradable bamboo handle. The bristles are nylon-6 bristles which should be removed before recycling the brush. On top of that, the box and wrapper are made from recycled materials. Not only is it good for the environment, it's good for people too. Funded by the purchase of any of their products, The Humble Smile foundation is an organization that helps vulnerable countries around the world by promoting oral health. So far The Humble Smile foundation has had projects in 37 countries around the world.
Mouthwash should be used everyday to keep your mouth clean and fresh. Now with these vegan and cruelty free tablets you can achieve good oral care while helping the planet. The tablets come in a glass container with a paper label so it is fully recyclable. It comes with 180 tablets so it lasts for three months. To use the tablets you dissolve in 10ml of water, and gargle for 30 seconds twice a day.
Humankind is a company that focuses solely on making the planet a better place. They have several products including shampoo and conditioner bars, deodorant, floss, cotton swabs, etc. Something else they have that is especially important right now due to Covid-19 is hand sanitizer. Not many eco-friendly companies have hand sanitizer out. This hand sanitizer is special because it comes in aluminum bottles with reusable pumps, so you only need to purchase the pumps once to reduce the waste of single-use plastic. When you are done with the bottles you recycle them and save the pumps for your next purchase. Each order comes with three pocket size bottles and an option to purchase the pumps. The hand sanitizer contains 65% alcohol so it meets CDC recommendations.
This zero waste floss comes in a reusable glass container, so when you purchase more floss you do not have to waste a thing. Just purchase the floss refill two-pack off the website and put it into the reusable container to use. The floss is vegan and is made out of bamboo fiber. Since it is compostable, instead of throwing the floss away when you are finished you can take it outside and bury it in the soil. The earth will take care of the rest.
The plastic-free bamboo hair brush is from a company called Well Earth Goods. It is made purely out of 100% biodegradable materials. The cushion of the brush is made out of natural rubber, and the handle and pins are made out of bamboo. Also, the bamboo handle has a beeswax finish which makes the brush water resistant. Still the brush should not be fully submerged in water or get too wet because this could mess up the brush. If it gets too wet pat dry. Not only does the company apply plastic-free to the brush, but to the shipping and packaging as well. Packaging contains paper tape, recycled labels, recycled mailer envelopes and recycled paper for cushioning.
When taking off makeup everyday people go through a lot of makeup wipes, so instead of wasting money and throwing away hundreds of makeup wipes, switch to the MakeUp Eraser. You can remove all your makeup with just water. One side of the cloth is polyester and has tiny "hair-like" fibers that creates a "suction for all dirt, makeup, & oil in your pores." The other side has long fibers to exfoliate the skin. The remover is reusable for up to 3-5 years. It is machine-washable so at least 1-2 times a week just pop it in the washing machine and use it again.
This body lotion is reusable and refillable, and made out of aluminium. Also, the lotion is made from all vegan ingredients. When ordering you can select a plan to receive a new bottle every 2,3,4, or 6 months, or you can just make a one time purchase and buy a refill bottle when you are finished. You have the choice of purchasing a pump because once you have one you just switch it over to the next bottle when finished. When shipping you the refill bottle, they send a return label, so you can rinse out the empty one and ship it back since it is reusable.
According to the company Native, switching from their original deodorant to the plastic free deodorant will reduce plastic waste by 169 tons each year. The company is a member of the 1% for the planet, so for every deodorant bought they will donate 1% of earnings to fighting plastic pollution. The packaging is made out of paperboard, which means there is no plastic used. When shipping the product, they use 100% recycled paper mailers. The ingredients are safe for the planet as well since they are vegan and cruelty free.
Eco-friendly shampoo and conditioners are hard to find unless you want a bar form, but most people prefer the product from a bottle. Mukti is a brand that's sole purpose is to "connect people back to the environment," while keeping a negative impact on the environment to a minimum. All the ingredients are certified organic, vegan, cruelty free, and gluten free. The products are good for all hair types including color and chemically treated hair. Packaging is also safe for the environment being that it is glass.
About the Writer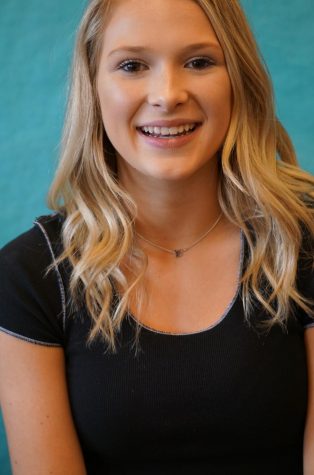 Lauren Cribbs, Reporter
Lauren Cribbs is a Sophomore and a reporter for The Broadcaster. This is her first year writing for The Broadcaster. She enjoys spending time with friends,...