Movie Review: Soul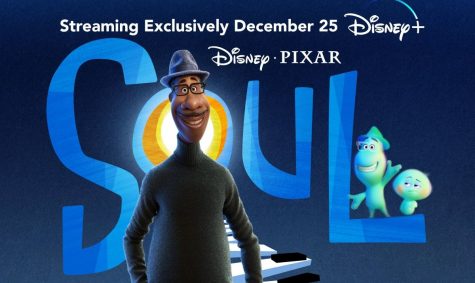 Pixar's "Soul" was released on December 25th exclusively streaming on Disney+. This film was originally supposed to hit theaters in November, but it skipped theaters and was sent straight to the streaming platform due to the Coronavirus. 
This animated production stars Jamie Fox as a middle school band teacher, Joe Gardiner, who contemplates his decisions and the life he took for granted after a near death experience leaving him trapped in the afterlife.
Joe Gardiner (Jamie Fox) gets a life-changing offer to play at the best jazz club in town. Starting on the streets of New York, he ends up falling down a hole where his soul is brought to a new place known as the Great Beyond. The Great Beyond is where new souls find their personalities, characteristics, and interests that will drive them to live a happy life on Earth. Joe feels he does not belong at this place and is trying to find a way out, so he can make it back to play his amazing gig.
"22" (Tina Fey), is a soul trying to find her purpose on Earth. She does not understand the excitement of human life, so Joe willingly tries to help find her spark by showing her what's so great about living. 
After countless adventures, Joe starts to re-evaluate his own life on earth wondering if he could have done more to not live his life in fear. This film becomes fairly similar to Pixar's movie "Inside Out," in the sense that they both deal with the portals of consciousness. However, this is Pixar's first film that centers on a Black protagonist.
According to Roger Ebert Reviews, "Despite feeling like rather minor Pixar overall, "Soul" will prove to be of historical interest because, despite the transformation issue, and when it isn't getting wrapped up in goofy afterlife shenanigans, it's the most unapologetically Black Pixar project yet released."
This movie has a well developed plot and storyline that can actually make a difference in people's lives and how they view the world. It's unlike no other movie I've seen and includes many historical references to jazz.
IMDb rated the movie 8.1/10 and 95% Rotten Tomatoes. Soul grossed $7.6 million from ten countries in its opening week.
Overall, I would rate "Soul" a 9/10. This movie did not fail to give me a good laugh or a heartwarming touch. It was a well pursued comedy-drama filled movie for all ages.