Penn State Football races past Rutgers 23-7, Claiming 900th Win
The Penn State Nittany Lions marched away from Piscataway, New Jersey with glee after beating the Rutgers Scarlet Knights 23-7 on Saturday December 5th. This win placed Penn State football in elite company, as one of the few college football programs to eclipse 900 total wins.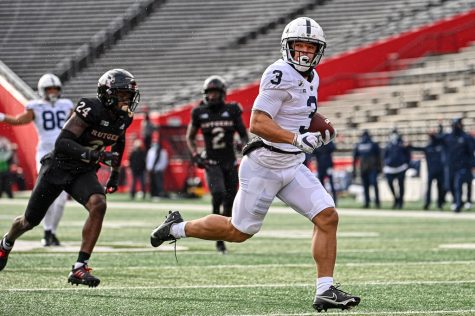 The Nittany Lions ground game was the main catalyst in their victory over the Scarlet Knights. Freshman running back Keyvone Lee had a tremendous day with 95 rushing yards on only 17 carries. Backup quarterback Will Levis utilized his 6'3" frame, and all of his 229 lbs to over power defenders racking up 65 yards on 17 carries. 
The Lions defense was led by linebacker, Jesse Luketa, who had himself a stellar performance. Luketa notched 6 solo tackles, and assisted on four more tackles. 
Freshman cornerback, Joey Porter Jr. also shined with four tackles and two assists. Due to his amazing performance he was named Big Ten Freshman of the Week. This is the second weekend in a row in which a Nittany Lion freshman has received that honor.
The Nittany Lions also had a boost from their kicking unit. Senior kicker, Jake Pinegar, went 2/2 on field goals, and junior kicker Jordan Stout went 1/1 with his longest from 47 yards. 
Starting PSU quarterback Sean Clifford had a solid game as well. Clifford had a completion ratio of 15/22, and threw for 133 yards. Clifford had one passing touchdown to freshman wide receiver, Parker Washington, and just one interception. He also rushed for 21 yards on 8 carries.
Penn State dominated in time of possession, as they controlled the ball for 36:47 minutes while Rutgers only had possession for 23:13 minutes. Penn State also had more yards per play with 4.8 yards compared to Rutgers only amassing 3.2 yards per play.
With this win the Nittany Lions achieved their 900th win in program history, only a handful of college football teams have accomplished this as well. The list includes Michigan, Ohio State, Alabama, Texas, Notre Dame, Oklahoma, Nebraska, and lastly Penn State. Half of the teams on the list are in the Big Ten Conference.
Penn State travels to East Lansing this upcoming Saturday to take on the Michigan State