Penn State Football Gets First Win in Rough Season
The Penn State Nittany Lions football team snagged their first win on the road against the Michigan Wolverines by a final score of 27-17. Freshman Running back, Keyvone Lee, led the way for the Nittany Lions.
Lee rushed for a game total of 134 rushing yards on 22 carries, and found paydirt once as well. Based upon his stellar performance Lee was awarded Big Ten freshman player of the week.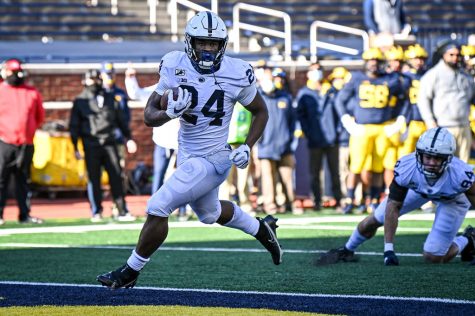 Freshman wide receiver, Parker Washington, also played a huge role in the Lions crucial victory. Washington had 9 catches for 93 yards.
Junior quarterback Sean Clifford finally had the bounce back game he desperately needed. Clifford threw for 163 total passing yards, but he hurt the Michigan defense even more with his legs. Clifford had 9 carries for 73 total rushing yards, and one rushing touchdown.
The Lions defense proved to be dominant over Michigan's offense, as Michigan struggled to move the ball all game. The wolverines had only 286 total yards compared to Penn State's 417 total yards. The wolverines also went 4/12 on third downs. If those statistics aren't bad enough, the time of possession went in the Nittany Lions favor with 36:36 minutes while Michigan only had the ball for 23:24 minutes.
Both teams came into this season highly ranked, as Penn State started out 8th in the country. Michigan was also in the AP top 25, but both teams quickly fell out of the rankings.
2020 hasn't been kind to either team as with this loss Michigan drops to 2-4, and with this win Penn State improves to 1-5. In fact, this is the worst Penn State football has been since 2001.
The Nittany Lions travel down to New Jersey to take on the Rutgers Scarlet Knights this upcoming Saturday. Penn State leads the series 28-2, and is slightly favored this Saturday.