HHS Football upset Cedar Cliff 28-21 on Senior Night
The Hershey Trojans beat the Cedar Cliff Colts by a final score of 28-21 on Friday, October 2nd. 
Trojan's senior quarterback Jackson Bouslough won the game with a 69 yard touchdown pass to senior Joey Corado in the waning moments of the game.
"I saw that their safety was coming down, and the coach believed in me to throw a deep shot," said Bouslough.
Bouslough went 4-for-11 for 135 yards with two touchdowns and a pair of interceptions.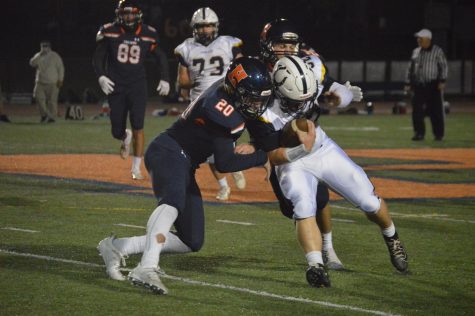 The game-winning pass was set up by a timely interception by junior cornerback John Russell Wallace. 
"This has been what the coach has been telling me to do all along," said Russell Wallace.
Wallace had two interceptions and 3 solo tackles and 2 assists.
Down by a score in the fourth quarter, Trojan Alec Angello recovered a fumble.  This set up a Davey Lloyd 55-yard receiving touchdown to tie the score at 21-21.
Lloyd also returned a kickoff for a touchdown in the second half.
Head Coach Mark Painter has guided the Trojans to their first 2-0 start in many years and part of the turnaround is a change in culture.  Painter uses the symbol of a "ring of fire" to motivate his players.
"We meet in this so-called ring before every game," said Painter, "and the ring symbolizes our unity together as a team while the fire showcases the desire in our gut to win. Both of those things came up big tonight."
The Trojans are back in action against the Palmyra Cougars Friday at 7:00 at Buck Swank Field at Palmyra High School.