Pride Month moves online in virtual event due to pandemic
Annually, the month of June is marked by LGBT+ pride parades and events in honor of the community's past and present struggles. This year, however, COVID-19 casts an ominous shadow over this historic tradition.
According to the Washington Post, "more than 475 Pride events have been canceled or postponed" due to the coronavirus.
This year's marches around the country would be the 51st anniversary of the riot at Stonewall Inn in New York City, which was considered the first-ever pride.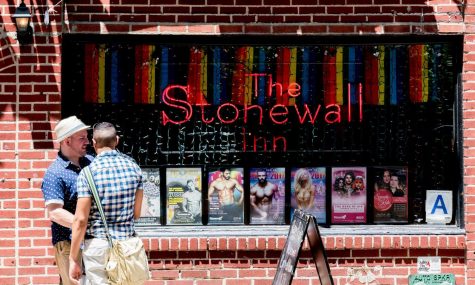 On June 28, 1969, police raided the Stonewall Inn, according to New York City Pride. The Stonewall Inn in Greenwich Village was a staple of New York City's underground queer community in a time period where being gay or transgender was persecuted by the law.
Such raids were common at the time, according to history.com. Due to the laws against LGBT+ individuals, they would flock to underground bars as a safe haven from law enforcement and other discrimination. These bars were then subject to raids by the police, who called the gathering of homosexuals "disorderly."
Law enforcement had been long since harassing LGBT+ individuals, and the raid on Stonewall seemed to be the final straw. During the raid, a police officer hit a woman over the head while forcing her into the police van. She yelled for the onlookers to act, causing them to begin throwing pennies, bottles, stones, and other objects at police officers. Soon, a full-blown riot broke out that continued for 6 whole days, including hundreds of people.
The Stonewall Riots acted as a catalyst for the gay rights movement in the United States. And to commemorate this landmark event, June was declared Pride Month 
Activists for Pride and organizers of Pride events are working on how they are going to coordinate a global event amidst the current pandemic.
Global Pride announced in early April that they're planning an event to take place on June 27th similar to the set up of New Year's Eve broadcasts.
According to the Washington Post around 350 Prides have said that they want to participate in this event. They intend to spotlight places like Sydney, Tel Aviv, and Rio de Janeiro, which are very popular Pride locations, but this is also allowing them to cover less-covered events in Africa, Latin America, and Asia.
The event is going to feature political speakers, musical performances, celebrity appearances, and possibly, as a way of encouraging engagement, at-home videos shared by participants.
Organizers of Global Pride also intend to incorporate a relief fund for struggling queer communities. The relief fund is a means of helping small businesses, queer community centers, and independent artists that rely on each Pride season.
New York City Pride announced recently that singer Janelle Monae and actor Dan Levy from the show "Schitt's Creek" would appear on their virtual event scheduled for June 28. Their event will be broadcast on Local TV and streamed on ABC News Live.
NYC Pride's website details the different events that they will be having that are going to span 30 days. The virtual events this year are a celebration of the 50th anniversary of NYC's first Pride March.