Navajo Nation Disproportionately Affected by COVID-19
According to CNN, "The Navajo Nation has surpassed New York and New Jersey for the highest per-capita coronavirus infection rate in the US."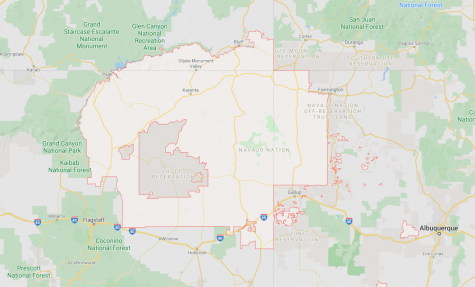 A total of 24,549 negative tests, 4,689 positive cases, and 159 confirmed deaths are reported by the Navajo Nation as of May 29, 2020.
The Navajo Nation's government has yet to see any of the $8 billion dollars allocated to Native American communities as part of the United States CARES Act, made to aid people during the pandemic, according to the Washington Post. 
A lawsuit has since been filed by several Native American tribes against the US government regarding how the government is choosing to allocate these funds, according to the New York Times.
Through their website, the Navajo Nation is asking for monetary and non-monetary donations to address immediate medical and community needs. They have currently raised $1,128,070 through GoFundMe.
A portion of these raised funds came from overseas. Nearly two centuries ago, in 1847, the Navajo Nation helped the people of Ireland and created a bond between the two peoples.
According to the Navajo Times after the people of the Choctaw Tribe started to settle in Oklahoma after the Trail of Tears they heard about the Irish people suffering through the potato famine. The Tribe raised $170 in relief to send to the Irish people which today is barely the equivalent of $5,000.
Now when the Navajo Nation is in need of help Ireland has come through with donations to help repay them for their support 173 years ago.
According to ABC News, Ireland gave at least 20,000 donations which total to about $670,00. Support from the Irish was so great that their donations accounted for about a third of the total donations.
NHO News says, "As of May 7, there were 20,000 Irish donors to the Navajo & Hopi Families Relief fund, who had donated $670,000." The fund is now at about $3.1 million as more people donate.