HHS' Mr. Steelman Continues AP Psych Review Online with Heart and Humor during School Shutdown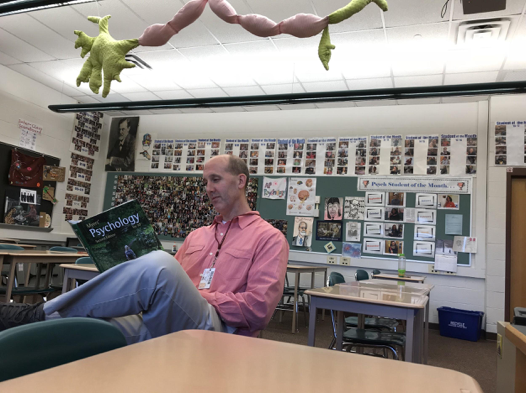 As of March 17, 2020, Derry Township School District has been closed due to the rising cases of COVID-19. The administration has made it clear that teachers are not to provide new educational material over the course of the two week closure. 
Teachers have been handling the unprecedented situation in different ways, some only advising students to review their previous school material on their own. Pete Steelman, a Hershey High School AP Psychology teacher, has his own unique system of staying in touch with his students. 
Steelman released an introductory video to Canvas on Tuesday, March 17, 2020, explaining what the coming weeks may look like for his AP Psychology students. In the video, he names his Canvas review system Steelman's AP Psychology Online Academy (SAPOA). 
"I'm just so sad for kids who are at risk of missing all these iconic moments like prom and graduation," Steelman said, "so I'm hoping to do anything I can to give them a chuckle or a smile or a substitute positive experience in these very weird times."
Steelman has used the Canvas platform in order to create a routine and entertaining optional review for his students. He has had two main goals of SAPOA: he is focused on helping students review and prepare for the AP test, and he strives to provide his students with the fun and normalcy that they are missing while being away from school.
Each day of the week, Steelman posts a fun bonus question in the morning, a review video, and a discussion post. All of his assignments are completely optional and not graded; however, many students have chosen to take part in his activities as a way to stay connected to school.
In his videos, Steelman reminisces on funny moments from the school year and calls out to individual students, both of which add a personal flare to his review page. 
"There's a huge hole in students' lives right now, and I think we owe it to them to try and fill it with as much positivity as we can," said Steelman.
Steelman also acknowledges that many teachers and students have situations that may make it difficult to be as involved with online systems, and he hopes that everyone is understanding. 
"Doing online games and review has helped give me something to focus on and still 'feel like a teacher' for an hour or two a day," Steelman said. "It's not easy to come up with unique ways to engage kids, but I've actually enjoyed the challenge."
The College Board which runs the AP exams, released a statement on March 20, 2020 which altered the exam to a 45-minute online test.  Additionally, the test would only be on a portion of the material included in the AP curriculum.
"I have mixed feelings," said Steelman. "I applaud them for 'cutting content' and essentially testing just on the first 80% of the school year, but I have no idea how it will work logistically with hundreds of thousands of kids testing basically at the same time."
For now, SAPOA is continuing review throughout the weeks of March 17-27, 2020. 
"I want kids to know that we miss them, we empathize with the situation they've been put in," said Steelman, "and I think that when we all look back at this time years from now we'll remember how teachers and students went to great lengths to try to stay connected."