Hershey Girls Basketball Falls to Mechanicsburg in Hard Fought Game
The Hershey Trojans girls basketball team suffered their first loss of the season 36-29 to the Mechanicsburg Wildcats on December 10th 2019.
The Trojans kept the score close early but were behind 21-17 at halftime.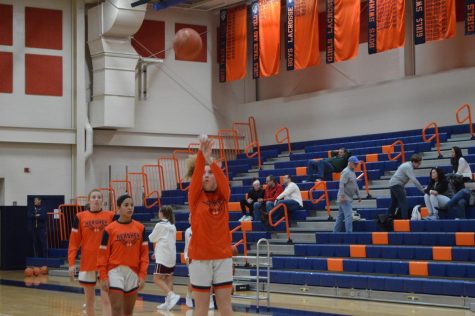 However, the momentum shifted in the third quarter as the Mechanicsburg Wildcats shut down the Trojans' offense and used that success to transition quickly down the court. As a result, Mechanicsburg was able to outscore the Trojans 6-3 in the third quarter.
In the fourth quarter, the Trojans made some key baskets to cut the lead even closer, but it wasn't enough as the Trojans came up just short in the end. Hershey Trojans girls basketball head coach, Ronald Moore said the Trojans loss was down to a lack of offensive success. 
HHS senior point guard Olivia Bratton said Moore prepared the team well. "He is a really dedicated guy," said Bratton, "He focuses a lot of his free time outside of practice watching film, so we really appreciate that he puts in the work outside of our practices."
The Trojans dropped to 2-1 overall, and have a conference record of 0-2.
Claudia Zugay, Anna Coulter, and Zoe Carlson lead the way for the Trojans in points. Zugay had a game total of nine points on 4-for-13 shooting. Anna Coulter shot 80% going 4-for-5 with eight points.
Zoe Carlson went 2-for-10 with five points.
DTSD Athletic Director Scott Govern said, "I believe our confidence grew as the game went on, but Mechanicsburg is rock solid. I think that our kids now believe that they can play with them."
The Trojans hope to bounce back on Friday, December 13th at Cedar Crest at 6:00 pm.