Life As A Hershey High Cheerleader
Senior Clare Canavan reflects on her cheer career
The time has come for this HHS cheerleader to put her pom poms down.
Senior cheer captain Clare Canavan has been involved in the Hershey Cheerleading program since she was in first grade. After 12 cheerleading seasons, she will no longer participate in the Friday night games filled with football, dancing, music, and memories.
From her first year cheering when she was 6 to her final year at 17, Canavan has grown tremendously not only as an athlete, but as a person. 
"If I had never gotten involved with cheer, I definitely wouldn't be as athletic or involved as I am now," said Canavan, "and I definitely wouldn't be the person I am today without all of my experiences as a cheerleader."
It is surprising to many how time consuming cheerleading is. While in season at Hershey, athletes like Canavan have two to three hours of exhausting practices after school, many team bonding commitments, pep rallies, occasional competitions, and most importantly their 8 hour game days. Every Friday, they have to show up at school, put their uniforms on, get ready together, go to the stadium to keep everyone pumped up, and spend time together afterwards.
Senior football player Colin Kondracki said, "Our cheerleaders are the best in the Mid Penn. They cheer loud every game, the entire game, no matter the score."
Because of how much time is spent being involved with cheer for Canavan, she said it can sometimes become overwhelming to balance with school and a social life. She has had to learn to not procrastinate and to have good time management skills in order to make high school less stressful in its entirety.
"I definitely don't have much free time, but that doesn't make me love cheer any less," said Canavan. 
Although cheer is a huge commitment Canavan wouldn't have wanted her high school memories to consist of anything else. In addition to the task of just being a cheerleader at Hershey, Canavan said the program has given her many opportunities to help the school and the community.  
"There have been many volunteer opportunities through the school and community that I have participated in with my team," said Canavan, "which have helped us grow closer as a team and helped me grow as a person."
In addition to dealing with all of the duties that come with being apart of cheerleading, being co-captain with senior Kate Clark has brought her great responsibilities to ensure a well-ordered season.
Cheer is different than most sports since it is majorly athlete-led. Canavan and Clark have a big part in creating and perfecting the cheers so they look flawless on game day. This has taught her amazing leadership skills that she will take with her for the rest of her life.
"There are a lot of girls to deal with, and making sure everyone looks good for game day in addition to dealing with drama that might occur can be stressful, but it has helped me learn to deal with a lot of situations," said Canavan. 
Some other responsibilities Canavan and Clark have includes finding new cheers and dances, teaching them, calling the cheers at games, and lots of other little things that affect the bigger picture. 
Being captain has made Canavan a whole different cheerleader. She said she used to look to the sides of her for help from her peers, but now feels it is the opposite. She loves that this title has given her the opportunity to affect the team in a positive way and make the atmosphere nothing but fun.
Her character speaks for itself, but many of her teammates also have great things to say about her. 
Sophomore Lauren Cribbs said, "Clare is so encouraging, kind, and patient with everyone. She just makes cheer a happier place and makes the environment supportive; she will definitely be missed next season."
Clark has also had a very meaningful impact on the team, but said neither of them would have made it so far in the program if they hadn't had each other throughout the whole experience. She loved being co-captains with such an amazing person and will definitely miss having Canavan by her side every Friday night. 
Looking back at her cheer career, Canavan said it'll be the thing she remembers most about high school. Canavan is sad to see the memories of a team she's grown so close to and something that she's been apart of since childhood come to a close, but she is ready to take the lessons she's learned along the way to move on to bigger and better things.
About the Contributor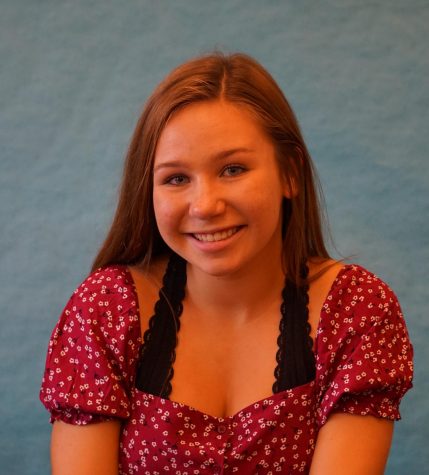 Mallory Gillespie, Video Editor
Mallory Gillespie is a video editor for the Broadcaster. She is a junior at Hershey High School and a second year member at the Broadcaster. Mallory also...