Hershey Girls Soccer loses to Lower Dauphin
The Hershey Trojans Girls Soccer team lost to Lower Dauphin 2-0 at home on Tuesday, September 24, 2019. 
This game was not only a rivalry game, but the theme for the game was a Gold Out to raise awareness for childhood cancer. During warmups, the Trojans wore gold shirts supporting the Hershey High School Mini-Thon. During half-time, community members canned for donations from spectators.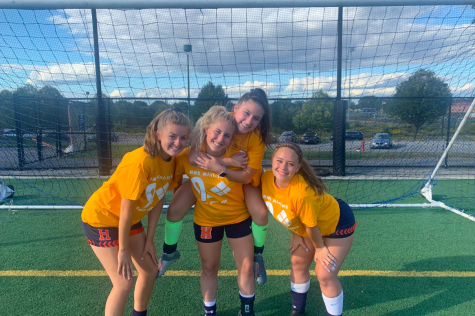 With 20 minutes left in the first half, Lower Dauphin scored a goal off a penalty kick, giving Lower Dauphin an advantage going into halftime.  
Although Lower Dauphin held possession most of the game, Hershey's defense was able to keep the Falcons within reach. 
WIth 14 minutes left in the game, Lower Dauphin scored off a corner kick to seal the victory. 
"We played pretty well even though we did not get the outcome we wanted, and I think that Olivia Bratton and Claudia Zugay, our defense, were able to keep us in the game," said sophomore Caroline Glus. 
The Hershey Trojans' record is now 6-4-1, and their next game will be Thursday, September 26, 2019 away against the Mechanicsburg Wildcats.