Hershey Trojans lose 77th Annual Cocoa Bean Bowl
The Hershey Trojans fell 20-0 against the Milton Hershey Spartans in the Cocoa Bean game at Hersheypark Stadium on Friday, September 6, 2019.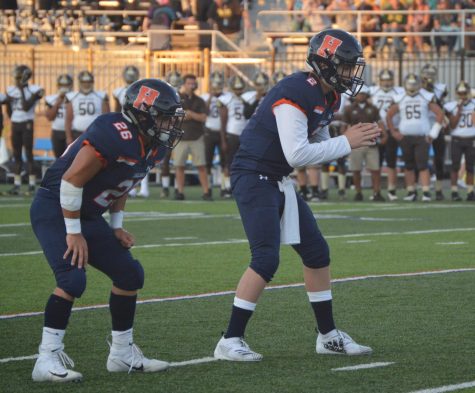 Milton Hershey grabbed the early lead with a touchdown rush from their quarterback Tigere Mavesere.
Mavesere rushed 23 times for a total of 125 yards and 2 touchdowns. The Spartans passing game maintained their offense, as Mavesere completed seven passes for 134 yards and a touchdown.
Trojan senior linebacker Anthony Zimmerman said, "Our motto is we want to bend, but we never want to break. They had a few nice plays against us, and we definitely made mistakes, but overall I thought, as a defense, we played pretty well tonight."
Zimmerman assisted in four tackles along with four solo tackles. 
The Trojans showed occasional flashes of life, none bigger than an interception made by junior cornerback Galvin Paniagua. However, the play was called back due to an illegal block in the back. 
The Spartans beat the Trojans by a final score of 20-0 claiming the Cocoa Bean for the second year in a row. 
All time Milton Hershey has a commanding lead over Hershey for total Cocoa Bean Bowl wins with 41 wins compared to Hershey's 32 wins. 
After the game, Coach Painter found reason for hope despite the loss.  "I thought we played with a lot of heart. I thought defensively our kids ran around and were very physical," said Painter. "We just made some key mistakes in some situations. A couple turnovers cost us dearly, and we were not taking advantage of some situations."
Assistant Coach Dalton Lyons also found the silver lining in the loss.   "Every game is a learning experience. We threw in a couple different kids for different looks, defensively and offensively," said Lyons, "they played well, so I think we're going to build off of that and just work for next week."
The Trojans will hit the road as they take on the Mechanicsburg Wildcats on Friday September 13th at 7:00 P.M. Hershey comes into the game 1-2 while Mechanicsburg is 2-1.