Koepfer Gets a Kick Out of the Apollos: Myah Koepfer's Performance in Anything Goes Earns Her an Apollo Awards Nomination
It was a "fairy dust moment."
That moment "where all the things we have been working for come together right as we go in to performance week," said Michelle O'Brien, Hershey's musical director, about this year's winter musical Anything Goes.  
One of the key parts of the musical's success was the lead actress Myah Koepfer, whose performance was so good it won her a nomination for the Apollo Awards. Koepfer brought her character, Reno Sweeney, to life as she sang and danced on the stage, which left some wondering what this great actress is like off stage.
Koepfer is an amiable senior who has been acting and dancing for years now. Her hard-working attitude and dedication to her role in the musical earned her a nomination for "Outstanding Lead Actress in a Musical" in the Apollo Awards, which was held on Sunday May 19th.
Koepfer got her start in acting when she was around 9 years old, where she was cast in Hershey Park's Home Sweet Home for Christmas. She has been a part of multiple productions since then, including The Wizard of Oz, Urinetown, and Peter Pan. However, as good of an actress as Koepfer is, she sees it as more of a hobby. Her true passion is dancing.
Koepfer has been dancing since she was four, and her love for dance is second only to her love for helping others. She currently takes 16 dance classes and assists two. With so much on her plate, she mentioned how exhausting dancing and acting can be, but she said she would not trade any of it for the world.
Singing, on the other hand, is something Koepfer does less often. Koepfer loves singing, but she said she prefers to do it on the down-low, in the shower, or, as she puts it, "scream singing in the car with friends." Koepfer mentioned that many were surprised at her singing talent this year; few knew she even could sing.
Koepfer's co-star Tommy Lane was one of these people who were surprised. He also mentioned that despite the fact that she did not have years of choir experience or voice training, her voice was naturally good.
Koepfer is a woman of many talents, but as mentioned before, honing her skills can get so taxing that she really values her free time. One of the things listed when she talked about her passions was "doing nothing," which in her mind looks like time to herself to read or sing in the shower. To her, doing nothing also includes cleaning, something that she is a little obsessed with. She loves organizing, whether it be her own room or someone else's.
As mentioned before, Koepfer loves to read. "I think if everyone in the world read as much as I did, everyone would just be happier," she said. This is part of why she called herself a nerd, and she never considers it an insult.
She described herself as "a complete dork." She went on to say that she is also extremely independent due to the fact that she had to grow up pretty fast. She also mentioned that she thinks many people underestimate her, and she can be super self deprecating but disguises it as humor.
Lane described Koepfer as very outgoing, personable, and extremely talented. He said that she is not afraid of putting herself out there, which is part of why she got the lead. The director of the musical, Michelle O'Brien, also said she was extremely talented, extremely kind, and extremely hardworking.
O'Brien also mentioned that Koepfer had an "innate sense of a story and of a character." This "sense" could clearly be seen as she played Reno, a strong willed woman who Koepfer described as very assertive. She played the role beautifully, even though Koepfer off stage is almost the opposite of that character.
"I am nothing like Reno Sweeney," she said, "I would like to be in some aspects because she gets what she wants and she's very assertive, and I am not always in my life as much as I want to be." Koepfer says that what got her to play the role so well was hours of research on the character, including rewatching the Rachel York version over and over to take notes on things like body language and her accent.
Her need to get things right helped in the long run, but occasionally this can be her downfall. Koepfer says that she is a "perfectionist in recovery." Koepfer and O'Brien both mentioned that she wants to be perfect to the point that she can be rather hard on herself.
"I'm more critical of myself than other people," she said on the matter, but added, "I really like teaching people things and helping people in general because it makes me feel good." Another one of Koepfer's passions is helping others.
Lane mentioned this aspect of Koepfer, saying that, "She'll support you no matter what. If you are having a terrible day, just talk to her. She'd support you, she'd sit you down to let her know everything she needs. She's incredibly helpful and a great personality at rehearsals."
Koepfer likes helping others so much that she says she gets very frustrated when she can not help someone. She even said she gets so obsessed with helping other people with her problems that she tends to avoid her own, and some of her problems are heavy ones.
One of these problems is the fact that she had to deal with her parents' divorce, which is part of the reason why she grew up so fast and says she tends to have trust issues. She said she also had to deal with some of the usual high school drama including some bad boyfriends and fake friendships. However, even with these issues in her life Koepfer manages to keep a positive, friendly attitude and continues to work hard towards her goals.
Her hard work has now paid off with her nomination for the Apollos. Koepfer reported that getting nominated has been a dream of hers since she was in fifth grade. The fact that she finally accomplished one of her dreams was enough to make her sob when she first found out she was nominated.
Koepfer's outgoing personality and skill set will take her far in life. Whether she decides to continue acting in the future or work more on her dancing talent, when it comes to her path in life, anything goes.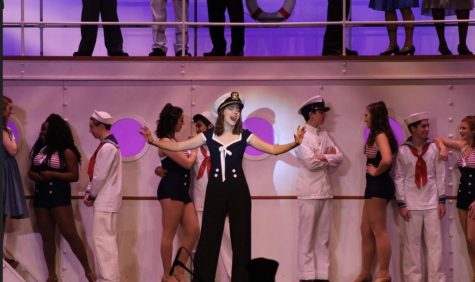 About the Writer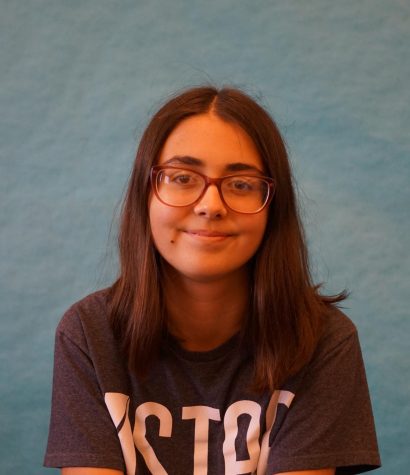 Alina Zang, Assistant Layout
Alina Zang is a Sophomore working as the Assistant Layout for the Broadcaster. This is her first year working for The Broadcaster. She enjoys writing,...