Online Snow Days May Be the Future for Pennsylvania Schools
It's a familiar feeling of joy for many students as they receive a call announcing an upcoming snow day. The students now have a free day all to themselves, but now this relaxing opportunity may be subject to change. Online school assignments in place of snow days are being proposed as an effective solution to completing the required number of school days per year during inclement weather.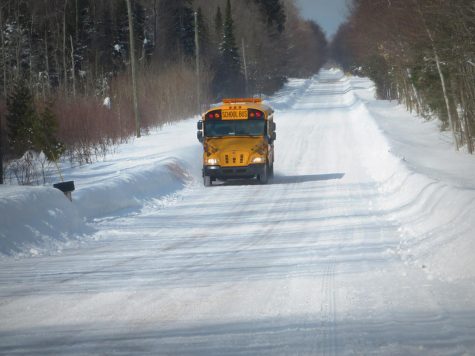 What would online snow days look like?
By: Claire Sheppard
If HHS began implementing online snow days, teachers would need to have a "lesson" or some kind of assignment for students to complete at home.
Physics teacher Jason Sibbach said if HHS had online snow days, he would put his assignment up on Canvas prior to the snow day. Sibbach said his assignments would most likely be extra practice or review work, such as reading an article or watching an Edpuzzle, so that the assignment would be appropriate to complete at any time.
Since Sibbach teaches both honors classes and AP classes, he said he would give both classes the same type of assignment but appropriate for the level. For his AP classes, he would probably give them a review assignment from earlier units.
Sibbach said he likes the idea. "I think most of us are doing work on snow days anyway," said Sibbach, "Adding days to the end of the school year in June are days without learning because AP tests and finals are over."
The Milton Hershey School already uses online snow days. Milton Hershey Hershey junior José Mendez said, "The online assignments look like any other day's work we would see on Google Classroom, but instead, we are just at home doing the work." He said his teachers usually either assign their student's new topics to learn about, such as watching a Crash Course video, or they give assignments that review something they had learned prior. Overall, Mendez said the online days help relieve his stress since he has the whole day to get caught up on all his work.   
Mendez likes having online snow days and says they are extremely beneficial; however, all students at Milton Hershey have access to the Internet at home, where at Hershey, not everyone has that access, as Smith mentioned. Teachers could give work on paper if needed, especially if it is suspected there might be a snow day.
At Hershey High School, Sibbach said he would create an assignment that would be "some type of enrichment to the overall course, not necessarily a typical 'homework assignment.'" According to Sibbach's idea of what an online snow day would look like to him, online snow days might not be as work-heavy as students may imagine; they could be a day of learning "bonus" things about the course they are taking without having to complete a typical homework assignment.
How would online snow days work?  
By: Claire Sheppard
To add online snow days to the curriculum, a long approval process is needed according to HHS Principal Jeff Smith. First, it must go through Dr. Stacy Winslow, the assistant superintendent, who would work with the principals and teachers on whether or not to continue the process. They then must get an agreement from the Hershey Education Association, a "union" of teachers, administrators, and other staff members of Derry Township School District. It would then go to Mr. Joe McFarland, and finally to the school board.
"This would not just be a decision made only with the school; it would be something where we would have to bring in constituents, and we would talk to the parents," Smith said.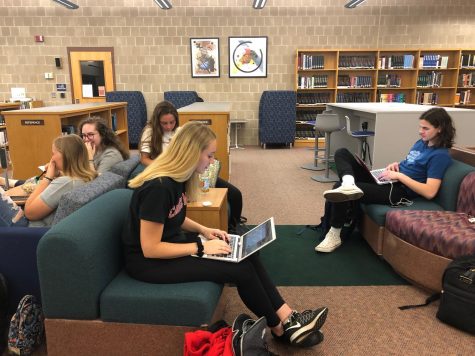 The whole process according to Smith would take about 18-24 months once the school decides to go forward with the idea of implementing online snow days.
If HHS did successfully implement online snow days, Smith said it would be extremely beneficial with the school schedule. One benefit is HHS would have a longer spring break. Students and staff at HHS lost two days of spring break in the 2018-2019 school year because of snow days. There had also been three-day weekends that were lost because of snow days. Having to make up these days that students and staff members originally had off can ruin families' plans for vacation.
Not only would days off remain untouched by snow make-ups but also the final exam schedule and summer break would not be pushed back. Adding online snow days would ultimately fix these problems, according to Smith. "[Implementing online snow days] certainly has a lot of merits," Smith said, "if the schools and community have the resources to be able to have devices to access the internet."
How would adding online school days affect school schedule?
By: Leah Koppenhaver
If online school days were implemented throughout Derry Township School District, the goal would be that they would not change the overall makeup of the schedule. According to Hershey High School principal Jeffrey Smith, the idea would be that cyber school days gave DTSD a consistent schedule.
"Working from home on snow days would count as a day of school, so we would not have to push or change the scheduling of finals, testing, etc.," said Smith.
Teachers would be able to give different forms of assessments outside of class, but in order for some level of fairness, most assessments would need to be pushed back to the next in-person school day.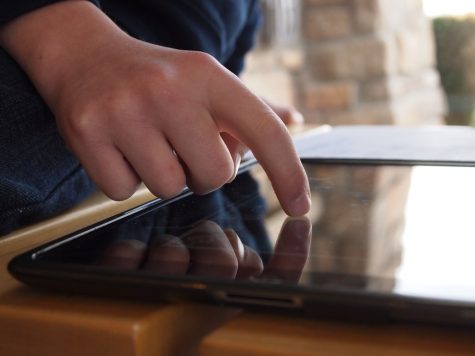 In recent years, Derry Township has administered personal IPads to the middle school and high school students, and elementary students have access to these devices in their classrooms.
As the use of technology has increased at Hershey, teachers now have the options to utilize alternative forms of assessments, instead of the typical paper/pencil test.
"When I was a teacher, I liked to give students take-home tests from time to time," said Smith. He said he enjoyed seeing the work students were able to collaborate on and hearing them talk about the assignments in class the next day.
As HHS has introduced blended classes in the past two years, the high school students and teachers have gotten an idea of how out of class assignments might look like. With blended classes, students only go to the actual classroom every other day. On blended days, teachers create out of class assignments that students complete outside of the classroom.
One of the barriers of putting them into place is that not everyone has internet capability at home or has access to a device. Both the high school and middle school are 1:1 with devices to students, but the elementary cannot guarantee a device for every student. "In order for the cyber school days to work effectively, we will need to guarantee the appropriate technology for all of the students," said Smith.
In order for Hershey to be approved for the cyber school days, a waiver would need to be given from the state allowing the Act-80 requirements to not be met.
It is required in Pennsylvania that all public schools must be open for at least 180 days and open for at least 990 hours per school year.
Based upon section 1504 amended in 1969, Act 80 was introduced allowing exceptions to the daily hour or the 180-day requirement, according to the Pennsylvania Education Department.
Act 80 days can include parent-teacher meetings, curriculum planning, etc. Requests for exceptions can be made by completing the state required forms.
The discussion at the state of using online snow days has opened new areas of discussion including adding online days even when the weather is perfect.  The future of schools could look very different if online days were put into place. Rural schools across the country have begun using these days in order to save money, including almost 100 school districts in Oklahoma, according to NBC News. Many schools began changing the makeup of their weekly schedule so that students only come to school four days a week for extended hours.
By changing the school weeks to four days, schools would be able to reduce the number of bus runs per week and using limited air conditioning/heat. The fifth day is commonly used for teacher development, where teachers use the day for planning or meeting with other teacher and staff members. This day can also be used to fulfill their hourly requirement and allow teachers to get a five day pay week.
How successful have online school days been across Pennsylvania?
By: Olivia Bratton
Multiple high schools throughout Pennsylvania have taken part in a three-year pilot program to test the effects of these online days.
To be eligible for the program, schools had to submit a formal education plan including when teachers and students would be required to submit work, according to ABC news.
Another large component of online education revolves around technology; therefore, schools who wished to conduct the program had to also ensure that all students had access to some form of technology such as a laptop or smart device like an iPad.
Public school districts Blackhawk, Carlisle, Elizabeth Forward, Seneca Valley, McGuffey and the private schools Evergreen Community Charter and Lancaster Country Day were among the Pennsylvanian participants.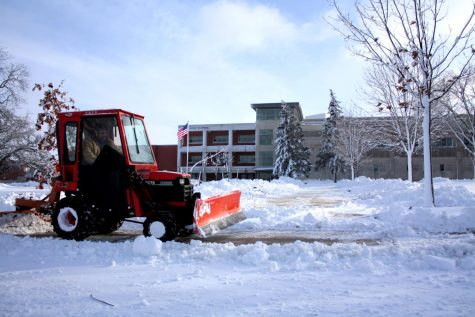 As one of the 12 participating PA school districts, Lancaster County Day has found major success with the adoption of flexible learning days, according to Lancaster Online.
In an interview with LNP news, the assistant head of school for Lancaster County Day Todd Trout said, "For us, it has been a very effective way to allow us to continue with our academic program even when nature doesn't cooperate."
Trout also addresses that if in a rare case of technological or internet problems, the school will work with the student and family to adjust the situation to fit their needs.
Elsewhere in PA, York County also made up a significant portion of the schools that were involved in the pilot program including the Central York, Dallastown, Red Lion, and Southern York school districts.
Specifically, Central York implemented a cyber school day during the pilot program due to inclement weather.
According to the York Daily Record (YDR), the Superintendent of Central York stated, "They [the students and staff] were happy to continue the education process, happy to count the day within the school calendar. By and large, I received very good feedback."
In addition, Julie Randall Romig, director of communications and marketing for Central York and a mother of two students in the district, also agreed that these flexible learning days were beneficial.
According to the YDR, she explained that her children understood their assignments, and their teachers were monitoring progress and ready to help throughout the day.
Romig also addressed a common fear among students regarding the invasion of their free time. Romig said, "I feel they were able to definitely enjoy the snow day. It was not as if they were working from sun up until sundown, but it gave them something constructive to do."
Considering that online flexible learning days received positive feedback, many were left to wonder what will happen next.
As of March 2019, a Senate committee approved legislation that allows all school districts in Pennsylvania to utilize cyber school days in place of snow days, according to ABC.
Senate Bill 440 was unanimously voted through by the Senate Education Committee, and the legislation permits for a maximum of five instructional days per school year.  It also does not require all school districts to adopt flexible learning days and those that are interested need to obtain approval by the Pennsylvania Department of Education.
The bill will now move on to the full Senate to be discussed upon further examination; online snow days may now be closer to reality than students previously thought.
What are the positives and negatives of online snow days?
By: Kate Clark
The possibility of online snow days does come with many pros and cons. However, with a fully planned schedule and the assurance that everyone will have the ability to complete their assignments, schools have put this idea into full motion and completely replaced snow days with very few complications.
Pros:
#1: Students would have the ability to complete their assignments from home. Teachers would be able to assign their students homework followed by directions on how to complete it, similar to how it would be taught in a classroom. By getting this work done from home, the need for added on school days would no longer be necessary and students would be on top of their work, even if they're not in a classroom.
#2: Students wouldn't need to make up extra school days at the end of the year. Adding on extra days to the end of the year and taking away scheduled days for spring break always conflicts with students vacation, sports, and other activities. By keeping our school schedule to its original planned dates, this would result in fewer conflicts regarding added on days and therefore allowing students to plan the school year without any complications.
#3: Students wouldn't be stressed about driving to school is dangerous conditions. The stress of trying to get to school on a snow day not only causes transportation inconveniences, but also leads to more accidents involving teen drivers. The expectation of arriving at school on time seems almost impossible for students having to drive. Online snow days replace the stress of having to commute to school and give them the opportunity to complete their work without the struggle of searching for transportation.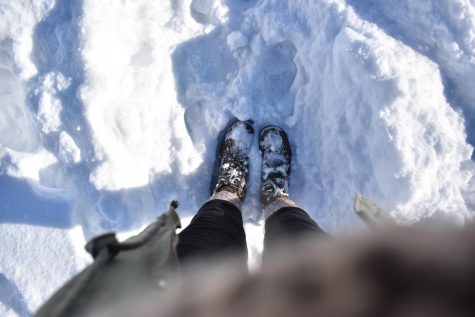 Cons:
#1: Students can't always access the internet from home. Whether it's slow wifi, a broken printer, or no internet at all, many schools need to consider that technology can be a big burden for students. With schools relying on technology to complete their assignments, the possibility of internet complications can cause more stress on students. Issues involving no access to technology has been a major reason why schools refuse to make students complete assignments from home. No technology means no completed assignments, therefore taking away the purpose of online snow days.
#2: Students would have to reschedule for sports and extracurricular activities. Sports and school clubs take place on a weekly basis after school. However, if we replace snow days with online school, making up those practices and club meetings will only cause more schedule conflicts for students. With students making up school work at home while stuck in bad weather conditions, practices and any extracurriculars would need to be canceled, the only problem is rescheduling them.
#3: Students wouldn't have the motivation to complete their homework. One of the most exciting parts about a snow day is getting the phone call that school is canceled. Everyone goes outside to play in the snow, and no one has the energy or motivation to complete their schoolwork on a day off. The chances of students getting all of their schoolwork completed are very low, and the expectation of students understanding the material they missed is also unlikely as well. The problem with assigning work on a students day off is that students need the extra day to catch up on work and relax. Yes, it's convenient for students to work on more assignments since they're home and already doing school work, but the amount of stress inflicted on students is already enough for one to handle, and the lack of motivation is substantial.