Then and Now
Hang on for a minute...we're trying to find some more stories you might like.
Then & Now with Jacob Ely
Senior Jacob Ely moved from Lakewood Ranch, Florida to Hershey the summer before his fifth grade. Ely has played multiple sports since moving to Hershey because he wanted to try out new things.
"Since moving, I have played soccer and ran cross country," said Ely.
When Ely was four years old, his family took a trip to Disney World where he smiled for a photo at the resort they were staying at. Ely's favorite part was getting to stay at a hotel and spending time at the pool.
"We spent a lot of time at the resort since we lived in Florida," said Ely.
Ely will be attending Florida State University in the fall of 2019 to continue his education and be close to family and friends in Florida.
"Recently, my family bought a condo in Lakewood Ranch near Siesta Key Beach," said Ely.
Then & Now with Lauren Cribbs
Lauren Cribbs, freshman, has been living in Hershey since first grade when she moved from Kansas City, Missouri. While living in Kansas City, Missouri, Cribbs had professional photos done for her birthday when she was four years old. A family friend took the photographs for their family that they knew from church.
"It was taken at Christy's Custom Photography in Brighton, Missouri. Christy was a family friend of ours," said Cribbs.
Cribbs family had photos taken professionally every year when she was a child. Along with professional photos of her, Cribbs also has a older brother. Cribbs reminisced about the time when she was four and went on a Disney Cruise a month or two before she got professional photos taken.
Cribbs said, "My brother lost his first tooth on the cruise and I said to him 'you don't really believe there's a tooth fairy, do you?"
After moving to Hershey, Cribbs decided to play both lacrosse and cheer at the high school. She did competition cheerleading in Missouri and then continued to do it in Pennsylvania, but now she only does sideline cheer at the high school.
"I started going to Cheer Tyme [in Pennsylvania] until I was 13 years old," said Cribbs.
Then & Now with Keeley Farrell
Keeley Farrell, sophomore, was eight years old when she ran along the beach at Big Sur, California. Her family has visited many beaches in California such as Monterey, Pebble Beach, Carmel, and North and South Tahoe, but it was the first time they went to Big Sur. Farrell and her family spent the day at the beach with their cousins soaking up the sun and playing in the water.
"I was not paying attention to the waves, and I got caught in the riptide and got sand all over me," said Farrell.
Farrell had lived in both Roseville, California and Des Moines, Iowa before she moved to Hershey in 2010.  Farrell has played soccer and lacrosse while living in Hershey and decided to play lacrosse freshmen year because her and her friend wanted to try it ou. She has been playing soccer for eight years and still plays now.
"I have played lacrosse for only two years, and I was always interested in playing," said Farrell.
About the Writer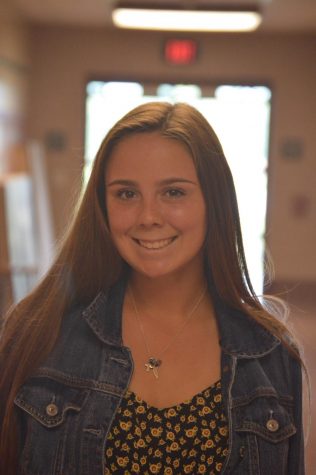 Elaina Joyner, Reporter
Elaina Joyner is a reporter that specializes in photography. She is a senior at Hershey High School and has been a part of the Broadcaster for three years....