HHS Foreign Exchange Student Becomes Active in the Community
Hang on for a minute...we're trying to find some more stories you might like.
This foreign exchange student is from a place that not many are familiar with.
Sixteen year old Ann Barto arrived in Hershey last August from Amman, Jordan. As a part of the Circassian ethnic group in Jordan, she was unfamiliar with Pennsylvania when she arrived. Since then, Barto has become involved in numerous school and community activities.
Barto's decision to do the exchange program was heavily influenced by her father who also did it in the past, along with her natural curiosity.
"I always wanted to leave Jordan and explore the rest of the world," said Barto.
Transitioning from her home country to Hershey proved to be difficult at first. Being surrounded by strangers who primarily speak English was a stark change, but her host parents helped her adjust. One of their suggestions was to take acting classes at the Hershey Area Playhouse.
Although Barto was a shy person even in Jordan, she found that through acting, her own personality began to evolve.
"With acting classes, I became more confident…I'm not afraid to express myself," said Barto.
This new interest sparked her to join several other activities. Barto is also part of the Compassion for Animals Club, HHS Book Club, Key Club, and more. Additionally, she volunteers regularly at the Hershey Public Library.
Most recently, Barto was cast in the HHS Spring Play in the role of Lucille. Barto described that the opportunity to be a part of a school event like that was a part of her goal when she first came to Hershey. Barto explained that having special memories like that is important to her.
Besides acting, another outlet for Barto's creative expression is poetry. Poetry is a way for Barto to transfer her thoughts and feelings into words. She often gifts her poems to others. For example, she dedicated one to her cousin as a birthday present since they were separated this year.
"I usually write about my emotions," said Barto.
Barto has been developing her plans for when she returns to Jordan. One of them includes teaching English to other students. The exchange program at her school allows those like Barto, who have been completely immersed in an English speaking culture, to tutor those who don't have as much experience.
She also plans on coming back to the U.S. for college. The environment and education system here interested her in seeing this as a possibility.
"In the U.S., I can be more independent," said Barto.
Although Barto faced initial challenges as an exchange student, she recommends the experience to others. She describes it as a way to discover new hobbies and interests.
"You'll experience a whole new culture, you'll change," said Barto, "you'll discover things about yourself that you never knew you had, you basically find yourself."
About the Writer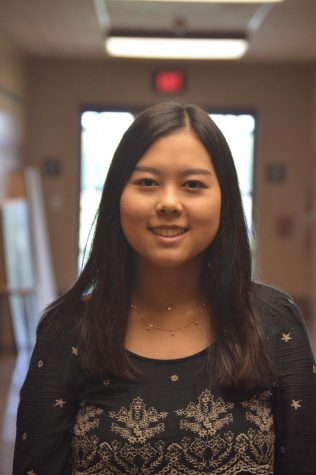 Abigail Lee, Reporter
Abigail Lee is a news reporter for the Broadcaster. This is her first year as part of the staff. She enjoys reading, drawing, and watching movies.