Jacqueline Fuentes-Gillespie Named New HMS Assistant Principal
Hang on for a minute...we're trying to find some more stories you might like.
In November of 2018, it was announced that Hershey Middle School's Assistant Principal, Tara Dorsey, would be stepping down from her position and would be replaced by Jacqueline Fuentes-Gillespie.
No was information provided for Dorsey's resignation. However, Fuentes-Gillespie said she is excited to gain all the new experiences that will come along with her new position.
This school year marks Fuentes-Gillespie's fifth year of working in Hershey Middle School, but previously she worked for ten years teaching social studies at Manheim Township High School. In between these two jobs, she was a stay-at-home mom for her two children.
Along with her decade of teaching experience, she has a master's degree and a principal certification. She is also currently working toward her doctorate in educational leadership, which for her meant that applying for the Assistant Principal position was a "natural next step as far as leadership."
After Fuentes-Gillespie applied for the position, her qualifications were reviewed by Principal Valentin, Mr. McFarland, Mr. Reifsnyder, Dr. Winslow, Dr. Shuman and several staff members. Then, on November 12, Fuentes-Gillespie was presented and approved at the school board meeting. Valentin said she was chosen because "She brings experience at HMS, a passion for working with kids and a positive outlook."
With the shift to an administrative position finally happening, she would like for people to acknowledge her full, hyphenated last name, Fuentes-Gillespie. She also wishes for more people to know that she has her doctorate and has worked on obtaining it for a long time.
As positive as she is, she is also nervous to take on this new role in the administration. Fuentes-Gillespie said, "I always like people being happy and so what scares me is that I probably won't make people happy all the time." However, she feels that this is a reality she will have to accept with her new title.
Fuentes-Gillespie will begin working as the new Assistant Principal as soon as there is a replacement found to fill her current role as the school's Family Consumer Sciences teacher. She hopes this replacement will be found sometime close to the beginning of the new year.
About the Writer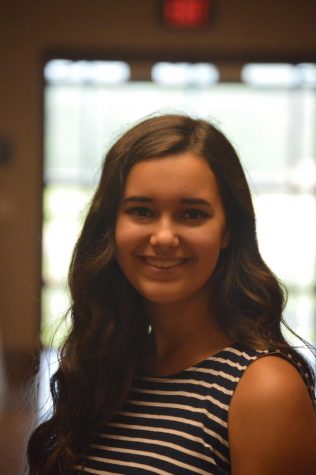 Sophia DeDonatis, Reporter
Sophia DeDonatis is a news reporter for The Broadcaster. This is her first year writing for The Broadcaster. Aside from Journalism, she enjoys reading,...