Local Instagram influencer Lauren Gray shares her social media journey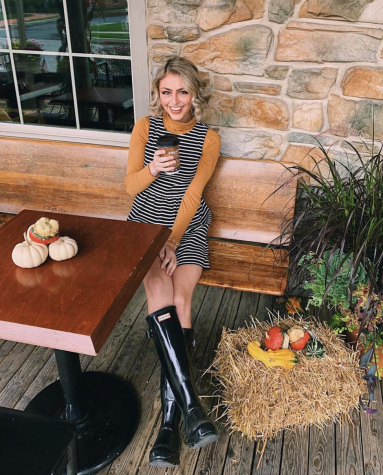 Social media influencer, Lauren Gray is just shy from hitting eleven thousand followers on Instagram.
Gray, 22 years old, works at the Hershey Tanger Outlets at J.Crew as well as working on her Instagram and Blog. Since 2014, she has been working to grow her social media platforms, and she is starting to achieve results. The time she has committed has lead to a thousand views on her blog per day and hundreds of likes per Instagram post.  
Gray grew up in central Pennsylvania and graduated high school in 2014. Early after her graduation she decided to change her path in college from fashion to business because she thought it would be a smarter plan for living in a non-urban area.
"Because I wasn't a fashion major, I needed a creative outlet, so I was looking on Instagram one day and there was this blogger, Gal Meets Glam. I was looking at her page and thought why don't I start one of these blogs," said Gray.
Gal Meets Glam led to Gray starting her own blog: Simply Lauren Gray.
In the beginning Gray said her blog wasn't the best. She used pictures from her iPhone, and a basic WordPress template. However, it made her happy so she kept up with it.
Now 4 years later she has a professional set up including a Nikon camera to take good quality pictures.
The same went with her Instagram, over the years she has gained loyal followers.
After Gray got past the initial struggles, it led to her developing brand relationships. She is on many popular brands public relations lists.   She receives many complimentary products from brands like Bath and Body Works, Urban Decay, and Vera Bradley. In return they expect her to promote their products.
Building the relationships with companies can require work. According to Gray, brands usually contact her, but sometimes if it's a brand she really wants to work with she will contact them first. Daniel Wellington Watches was a prime example.
"I saw a bunch of bloggers posting [about] Daniel Wellington watches," said Gray, "So I contacted them, and they said yes to working with me."
Often a brand will decline because they want someone with more of a following.
However, Gray recommends reaching out to brands because, "the worst thing they can say is no."
To grow more of a following Gray recommends to engage with other people's photos, and follow accounts with a similar interests. For Gray this is more in the realm of preppy style accounts.
"I would contact other preppy bloggers, and we would do a follow Friday," said Gray. "[We'd] post a photo of each other on Instagram, and say follow my preppy friend," said Gray.
In addition, Gray explained that she would love to do blogging and Instagramming full time.  She said it is a crazy dream, but it is her eventual goal. For this to come true, Gray said it would take hard work and determination.
Gray offered some simple advice to anyone wishing to jump into social media.  Be yourself.
"The hardest thing about starting a blog or Instagram is comparing yourself to bigger instagramers or bloggers," said Gray. "Be confident in who you are and what you have to bring to the table."
Advisor's note: This story won Honorable Mention at the 2019 Keystone Press Awards.