HHS library continues innovation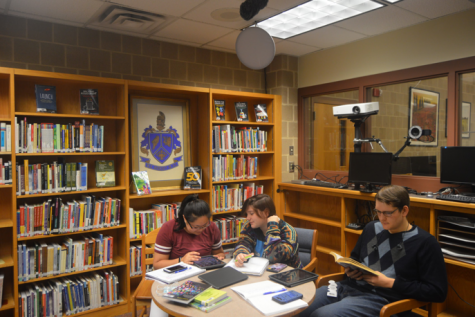 The Hershey High School Library is changing for the 2018-2019 school year. According to HHS librarian, Allison Mackley, the library got a face lift of sorts with new features and organizational aspects.
Some of the new features in the library include: new reference books and a larger space for fiction books and a "One Button Studio," which was given to the school through a Trojan Foundation Grant last November.
Mackley expressed the benefits of the One Button Studio, saying there is a green screen and a blue screen to accommodate students' needs in the studio. There are also high-tech video cameras for students to use in various ways.
Mackley said she needs to market the One Button Studio to increase usage, noting that it would be beneficial for clubs and the morning announcements to use it for publicity.
"It has a lot of possibilities because it has professional, quality items," said Mackley.
Another big change regarding the library is Flextime Manager, a new program the high school decided to implement for study halls. A student must sign up online and select where they would like to spend their study hall.
Mackley said she had a one hour training to learn the basics of Flextime Manager and that she opens up slots for the library in advance. This allows for students to sign up to go to the library ahead of time.
"I open up slots one or two weeks in advance, so someone could actually sit at home, or somewhere they have internet access, and take a spot for two weeks if they'd like. Then, when they come in, they don't have to worry about signing in," said Mackley.
According to Mackley, Flextime Manager should be easy to use and allow students to be flexible with their own time in study hall.
Mackley says the library is more toned down and relaxed this year. She also opens up a different number of spots depending on how many students are in the study hall.
Through the new additions and upgrades to old aspects, Mackley hopes the library will provide an improved learning environment for HHS students.