Editorial: Small businesses are Best Fit for Downtown Hershey
Hang on for a minute...we're trying to find some more stories you might like.
Imagine a small town. It is filled with small, locally owned businesses like a coffee shop and a small brew pub. This is what towns should look like. Instead, chain businesses have been popping up in towns and communities all across the nation which could mean bad news.
Hershey residents should support small businesses, not chains.
There are many small businesses in Hershey. Some include: Knock Knock Boutique, Small Town Fudge, and Phillip Arthurs. These businesses are huge assets to Hershey since they keep money local and build a sense of community within Hershey.
Small, local businesses help the local economy by creating jobs. According to the Small Business Association, 64% of new jobs since 1995 have been created by small businesses. That is more than half. These jobs keep people working locally, which just benefits the community.
There was also a study in Greenfield, Massachusetts that was conducted and found that a new Walmart would take away $35 million in sales from preexisting businesses in the area. While there would be 177 new jobs created from the Wal-Mart, there would also be a loss of 148 jobs at other businesses. The new Walmart would take away jobs from people like your next door neighbors and possibly giving them to people outside of your community.
Another way small businesses help the local economy is by keeping money local. When someone makes a purchase at a locally owned business, the money will most likely stay within the community. Since the business itself is local, it is more likely to buy services like advertisements from other local businesses therefore keeping that money local. If the business were a chain, their money would most likely leave that community rather quickly. Larger chain companies tend to take their business out of the community in order to save themselves money. While this may benefit the chain companies, this does not help places like Hershey at all.
In addition to benefiting the local economy, small business help to build a sense of community. Small, local businesses add to the character and charm of each community since those businesses are only found in those places.
Stacy Mitchell is an author for The Institute of Local Self-Reliance. She gave a speech  at the annual conference of the American Planning Association in April of 2000. During the speech, Mitchell said, "Local business add to the uniqueness of a community."
While in Hershey, local business that can be found are the Hershey Pantry, Small Town Fudge, Phillip Arthur's, and many more. They are unique to our community because they cannot be found anywhere else. The Chipotle is not special to Hershey because you can find a Chipotle almost anywhere you go. Chains like Chipotle do nothing to Hershey in the way of adding character to our town. Only local businesses can do that.
A great way to help is by shopping small. Supporting local businesses in Hershey help to boost the local economy and keep Hershey's charm alive.
About the Writer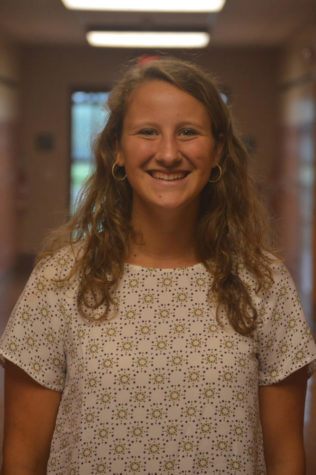 Elizabeth Newman, Layout designer
Elizabeth Newman is a layout designer for the Broadcaster. She is a junior at HHS and has been a part of the Broadcaster for two years. Elizabeth also...