Trojan Trading Post celebrates 9 years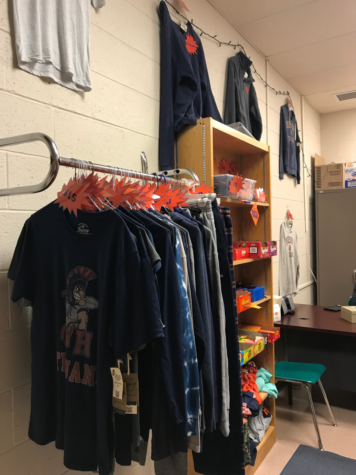 A decade ago it was just an idea.
The Trojan Trading Post celebrates its ninth years of operation in 2018. The student-led store raises scholarship money which is awarded to a graduating senior each year going to college to study business.
Over the first nine years, the Trojan Trading Post has raised $6,000 in scholarships.
Mike Gustantino, the advisor for the Trojan Trading Post, said, "Last year, we sold over $16,000 worth of merchandise.  This year we are currently on pace to surpass this total."
The scholarship has been awarded to 15 students. In the past, there has been a single winner and also up to four winners in one graduating year. The scholarship is generated by the profit from the store.
Senior Cassie Zugay has enjoyed her experience working at The Trojan Trading Post.  "I like how I can have a say in what we produce and can make a difference in the Hershey community," said Zugay
The store sells apparel and candy. The apparel includes hats, t-shirts, sweatshirts, sweatpants, quarter zips, and much more. The products are bought by Hershey students, HHS staff, and the community through their website.
The Trojan Trading Post does no fundraisers throughout the year; all the money raised comes directly from the store.
The store is open to Hershey students and staff during all lunch periods, and merchandise can be bought then or ordered at anytime from their website.