Non-Traditional Holiday Recipes
By Rachael Schirato
These are not the usual cookies. The holiday season is the prime time for sugar cookies, eggnog,  and Christmas ham. Try something new at your dinner table this year. The HHS community shared their unique holiday recipes. Experiment over break with this collection of family favorites!
Tarte au Sucre                                                                                             
Submitted by Kim DeWitt
This French Canadian sugar pie will be sure to add something extra to the dinner table this year. Dewitt says, "Enjoy some Canadian Pie!"
Ingredients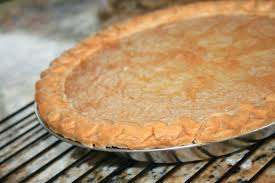 Pastry for 9 inch single-crust pie
2 cups packed golden brown sugar
3 tbsp all purpose flour
1 can Carnation evaporated milk ½ tsp vanilla
Lightly whipped cream
Preparation
Preheat oven to 350°F. On floured surface, roll out pastry to ⅛ inch thickness. Fit pastry into 9- inch pie plate; press into bottom and sides of plate. Trim overhang and flute edges.  
Combine brown sugar and flour in bowl. Mix well until there are no lumps. In a separate larger bowl, stir in evaporated milk, eggs, and vanilla, mixing well. Stir together the wet ingredients with the dry ingredients. Place pie plate on baking sheet; fill with mixture.
Bake 40-45 minutes or until the dough is set around the edges, but jiggles slightly in center. Let pie cool completely. Garnish with whipped cream.
Maloy Family Bread Stuffing
Submitted by Lisa Maloy
A twist on a classic holiday side dish.
Ingredients 
4 loaves of day old Italian bread

3 sticks of salted butter

2 yellow onions, chopped fine

1 quart vegetable or chicken stock

Black pepper

Large baking pan
Preparation
Tear up all bread loaves into bite size pieces. Set aside in large bowl(s).

Sauté the onions in the butter until the onions are soft and transparent. Add ground black pepper for taste.

Evenly distribute butter and onions across bread bowl(s) and toss. Press bread mixture into a large, deep baking pan and evenly distribute chicken or vegetable stock across bread mixture. Cover with lid or foil and bake at 325° F for 1 hour. Remove cover and baking for another 30 minutes or until top starts to get slightly crunchy and brown.
Lord Have Mercy Bars
Submitted by Lexie Corcoran
A cookie bar overloaded with sweets.
Ingredients
1 ½ cups graham cracker crumbs
½ cup butter or margarine, melted
1 (14 ounce) can Eagle Brand® Sweetened Condensed Milk
1 cup semi-sweet chocolate chips
1 cup butterscotch-flavored chips
1 ⅓ cups flaked coconut (optional)
1 cup chopped nuts
Preparation
Preheat oven to 350° F (325° F for glass baking pan). In small bowl, combine graham cracker crumbs and butter; mix well. Press crumb mixture firmly on bottom of 13×9-inch baking pan. Pour sweetened condensed milk evenly over crumb mixture. Layer evenly with remaining ingredients; press down firmly with fork. Bake for 25 minutes or until lightly browned. Cool. Chill if desired. Cut into bars or diamonds. Store covered at room temperature.
Picana
Submitted by Nandy Loayza
A Bolivian dish enjoyed around the holidays. Traditionally, this dish is made with 2 cups of sweet white wine; however, this recipe provides an alternative, non- alcoholic option.
Ingredients
1 chicken cut into eight pieces
½ cup green peas, peeled
2 bay leaves
4 large onions, thinly sliced
16 round slices of corn on the cob (about 3 cobs)
8 carrots, grated
1 fresh chili pepper, cut into eight pieces
8 whole potatoes, peeled
4 cups water or broth  
Preparation
Mix all ingredients in a large casserole, leaving out the potatoes. Place the potatoes in last so that they are on the top of the other ingredients. Cook over low heat for two to three hours. In a deep serving plate, serve a piece of chicken, potato, and corn round slices with enough broth.
Heavenly Bits
Submitted by Shanna Sweitzer
A Christmas cookie must have.
Ingredients
⅞ cup butter
4 rounded tbsp powdered sugar
2 tsp vanilla
½ tsp salt
5 tbsp water
2 cups flour
1 cup chopped walnuts
Preparation
Preheat the oven to 375° F. Cream butter and sugar. Add ½ of the flour. Then add water and vanilla. Add the rest of the flour and nuts. Roll into balls and evenly place on cookie sheet. Bake cookies for 8-10 minutes. Take the cookies out of the oven and let cool. Once cool, roll the cookies in powdered sugar.