North Korea Launches Four Missiles in Protest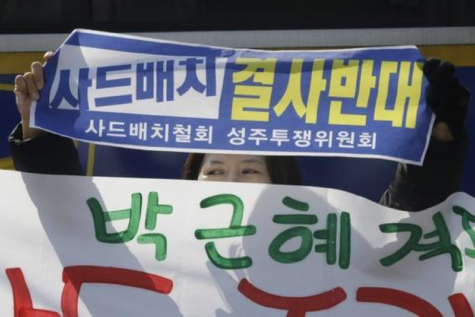 The North Korean threat continues to elevate.

North Korea launched four missiles into the Sea of Japan, also known as the East Sea. Three landed inside Japan's exclusive economic zone, with the fourth landing close by. The projectiles launched from the base in Tongchang-ri on Monday, March 6 and traveled 620 miles to the sea. The launches were in reaction to joint U.S.-South Korean military exercises on the southern half of the Korean Peninsula. These drills take place every year, and North Korea views them as preparation for an invasion. These exercises are called "Foal Eagle drills" and began on March 1 and are expected to continue until April 30.
According to the Washington Post, the launch was aimed at numerous United States bases in Japan. There are also 54,000 U.S. military personnel stationed in Japan.
Shinzō Abe, the prime minister of Japan, declared the launch "a clear violation of United Nations (UN) Security Council Resolutions."
He also told the Washington Post that "these missile launches clearly show that North Korea has developed a new threat."
Abe is not the only one who is worried about what these missiles could mean. Experts fear that North Korea is making observable progress in creating a missile capable of reaching the west coast of the United States, said CNN.
In his New Year's address, North Korean leader Kim Jong Un said that North Korea had "entered the final stage of preparation for a test-launch of an intercontinental ballistic missile."
According to CNN, North Korea's weapon program has begun to move at a faster rate to develop and deploy missiles.
This isn't the first time North Korea has launched these types of missiles, said CNN. In September 2016, the country launched three ballistic missiles to land in Japan's Air Defense Identification Zone, which provoked an angry response from the country's administration.
Following Monday's launch, North Korea did not say what kind of missiles were launched, but experts at the Middlebury Institute of International Studies in California were able to gather the type from photographs. They were long-range missiles called Scuds capable of reaching targets more than 600 miles away, said the Washington Post.
Two U.S. officials told CNN that U.S. intelligence agencies are closely monitoring North Korean missile activity via satellite. They have been seeing activity at another North Korea launch site that could mean potential launches. The U.S. strongly suspects another missile launch to occur in the future.
Instability will continue to be created by the regime, and the region faces an uncertain future.