Ed Sheeran's Divide Album Review
Hang on for a minute...we're trying to find some more stories you might like.
Ed Sheeran, 26, grew up in Framlingham, Suffolk with a big dream. Sheeran started out by learning the guitar at a young age and singing in church choir. He now is signed with Asylum Record company where he writes, records, and publishes music. Sheeran has released two songs to preview his new album, Divide, to the public. Sheeran debuted the songs called "Shape of You" and "Castle On the Hill" on January 6, 2017. Sheeran released Divide on March 3, 2017.
Sheeran took a six month break, and has not produced any music since 2015.
"My plan is to get rid of my iPhone, get rid of internet, get a Nokia 3310 and just go off into the wilderness somewhere for a bit," said Sheeran in an interview with MTV before his break.
Eraser– The song "Eraser" has a hip hop feel due to the rapping in the song. Sheeran talks about things like money being the root of all evil and family and friends being jealous when they should be proud. He sings about how these things can hurt a man, but he finds comfort in his pain. Sheeran shared with Glamour, "'Eraser' was a song that was very therapeutic to write."
Castle on the Hill- Sheeran released "Castle on the Hill", one of his two singles from the album, on January 6, 2017. The song has an upbeat and smooth feel to it.  The song was written and produced by Sheeran and Benny Blanco. "Castle on the Hill" gives the listener a happy and safe feeling of remembering his or her childhood experiences. The song is well put together and has a catchy chorus to it. Sheeran paints a picture of childhood and content. The song is perfect to listen to for  anyone who is on their way home. During an interview with Bustle, Sheeran revealed why he wrote "Castle On the Hill", "It is a love song for Suffolk cause I don't think anyone's ever done that." Sheeran's song about his hometown contains lyrics referencing past experiences and experiences that many can relate to. "Castle On the Hill" tells the story of Sheeran's journey as a child and growing up.
Dive- "Dive" is the type of song that makes you want to sway back and forth to while listening to it. Sheeran sings about how this girl shouldn't lead him on if she's not into him. He wants to know how she feels about him before he dives into the relationship. Sheeran says this is because when he does dive into a relationship, he gives 100 percent. He can't take another heartbreak, so he wants the girl to be honest and upfront, so he doesn't get himself hurt.
Shape of You- "Shape of You" was one of the singles Ed Sheeran released on January 6, 2017. It has upbeat and energetic feel. It describes him first being physically attracted to a woman. The song begins in a bar with him talking to a girl and they start dancing. The song progresses and moves into more intimate moments for the chorus. The next part of the song talks about their first date. It describes how the couple go out to an all you can eat restaurant and talk. The song goes back into the chorus, and Sheeran says her body was made for him and they attract like magnets along with saying he is in love with her body.
The song "Shape of You" was originally just a song Sheeran wrote with no intent to put it on this album. "I was like 'this would really work for Rihanna," shared Sheeran on January 6, 2017 while hosting the BBC Radio 1 Breakfast Show,  "And then I started singing lyrics like 'putting Van The Man on the jukebox' and I was like 'well she's not really going to sing that, is she?'"
Perfect- Sheeran's song "Perfect" is a catchy lush love song. It is slow and smooth. The song talks about a moment of a girl dancing barefoot in the grass in the night. Sheeran sings about a love story of the perfect woman for him, perfect to have kids and perfect to keep his secrets such as "be my girl, I'll be your man, I see my future in your eyes".
Galway Girl- "Galway Girl" is an extremely catchy song on the album. You can't help but tap your foot and sing along. Sheeran told Irish Times that the song was inspired by Niamh Dunne, a fiddle player in an Irish band, but his fans may be disappointed to hear that he made up the story in the song. Dunne is not from Galway and she is married to an Irishman, not and English man. Even if the story is made up, it doesn't stop his fans from loving it.
Happier-  "Happier" is a slow sad song about a past lover moving on. Sheeran starts the song by painting a picture of him walking down a street and seeing his ex-girlfriend in another man's arms. Sheeran shared on an interview with Glamour that "Happier" is his grown-up song of him becoming an older man. Sheeran also shared,  "I've definitely got to a point in my life where I'm friends with all my ex-girlfriends now, like we're all cool and it's very much like I'm really happy that you're happy…they are really happy that I'm happy and with someone..". Sheeran describes the pain he feels that she has moved on with lyrics such as "sat in the corner of the room/ everything's reminding me of you," and "nursing an empty bottle and telling myself you're happier."
New Man- The catchy upbeat song "New Man" is about an ex-girlfriend's new man. His listeners can't help but move to the beat. Surprisingly, Sheeran's song isn't about anyone specific. Sheeran told Beats 1's, Zane Lowe that he and co-writer Jessie Ware made a list of things that your ex's new man does. He isn't necessarily speaking of her next real relationship, but more like her rebound guy. Thankfully his label convinced him to put the song on this album. Originally, Sheeran wasn't going to include this song, but we are glad he did.
Hearts Don't Break Around Here– Sheeran wrote another sad love story about a girl. The song tells all the ways he loves her. The song speaks of the love going on and how strong it is. Sheeran uses lyrics such as "I feel safe when you're holding me near" and  "love the way that you conquer your fear." He also sings of the love they share such as holding hands and roses on their bed. He tells of the love he found in the woman that he holds and the woman who loves him. "Hearts Don't Break Around Here" makes the listener truly believe in true love with the words Sheeran sings about the love of her smell and how she is the spark of him.
What do I know?– In "What do I Know?" Sheeran sings about how love can change the world. He talks about things that are important to him like love, understanding, and positivity. The song talks about how a lot of things are happening in our world right now. Some are good and some are not so good. Sheeran uses the lyric, "The revolution's coming, it's a minute away, I saw people marching in the streets today" probably to describe the recent election and all of the protests. This song is a nice reminder to everyone that all you need to change the world is love.
How would you feel? (paean)– This song was released on February 17, 2017, Sheeran's birthday, and was basically a gift to all of his listeners. It is a slow and sweet love song which was written for Sheeran's girlfriend, Cherry Seaborn. Sheeran shared that he wrote the song in less than 15 minutes while his girlfriend was on her way back to an airport. He revealed that he was sitting at home and thought, "Oh I'll write a song really quickly and send it to her so that she's got something to listen to on the drive," and that's how the song was born. It appeared on the album after Seaborn reminded Sheeran the song even existed and his fans are forever grateful.
Supermarket Flowers– Sheeran's song "Supermarket Flowers" is written about the death of his grandma. His grandma got very sick while he was writing his album. Before the album was released, his grandma passed away. Sheeran wrote the lyrics "took the get well soon cards and stuffed animals" and "dad always told me don't you cry when you're down but mum there's a tear every time that I blink." Supermarket flowers makes the listener tear up as they listen to the lyrics of Sheeran sharing his feelings of the passing of a loved one. Sheeran tells of the woman who takes the shape of his mother and how she was there to pick him up when he fell down.
Barcelona– "Barcelona" is an upbeat and catchy song. It's the type of song perfect for when you are doing work in your room and want to get up and start dancing. It has an island rhythm to it. Sheeran said in an interview with Mirror, "I love Barcelona, so I wrote a love song for Barcelona." During the song Sheeran sings a few words in Spanish but he just put the words that he knows together, he revealed during an interview with Mirror.
Bibia Be Ye Ye– "Bibia Be Ye Ye" is a bonus track found on the deluxe version of his album. It has an upbeat rhythm that makes you want to move and dance. The title "Bibia Be Ye Ye" means 'all will be alright.' The song was written in Ghana and in the song, Sheeran speaks Twi, a dialect of Akan. The song talk about how even if things aren't working out for you at the time, don't worry and everything will be okay. This is a message we all need to hear and be reminded of once in awhile.
Nancy Mulligan–  "Nancy Mulligan" is an upbeat almost irish jig type of song. "I don't think enough people use [Irish music] in pop music," Sheeran said in an interview with Bustle.  The song tells the story of Sheeran's two parents. Sheeran wrote "I was twenty four years old when I met the woman I would call my own," to start out the song. The story tells how they were 24 when they met. When William proposed, Mulligan's father told him he can not marry her and then the two ran away to get married at the Wexford border. To end the chorus Sheeran sings "She was Nancy Mulligan and I was William Sheeran she took my name and then we were one," telling how they finally got married.
Save Myself– Sheeran wrote an inspirational love song for people and their well being as another song on the deluxe version of his album. The song gives the message of caring for your own well being and taking time to help yourself. Sheeran sings that everyone has rough time but you always need to help yourself hence the title, "Save Myself." The song speaks the words of saving yourself before being able to help others "So before I save someone else, I've got to save myself, life can get you down so I just numb the way it feels". The song ends on the thought of loving yourself,  "And before I love someone else, I've got to love myself."
Overall, Sheeran brought his A-game when writing his new album. Divide brought a wide variety of songs to his album ranging from African inspired to an Irish jig. Whether the songs made us want to sing and dance along or make us feel all the feels, we love and appreciate all of them. The album was definitely worth the wait, even if Sheeran went off the grid for a bit while making it.
"To my family and friends, if you love me you will understand me buggering off for a bit, to my fans, the third album is on its way and is the best thing I have made thus far," he said. "See you all next autumn, and thank you for being amazing," said Sheeran on his Instagram on December 13, 2015.
After releasing the caption on his instagram, Sheeran came back full force with a breathtaking album.
About the Writers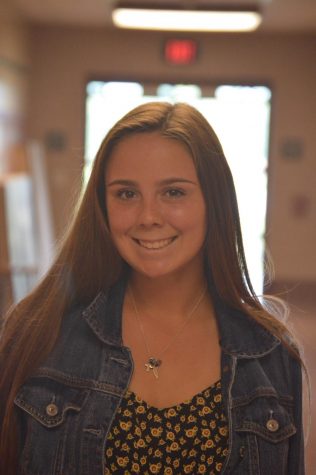 Elaina Joyner, Reporter
Elaina Joyner is a reporter that specializes in photography. She is a senior at Hershey High School and has been a part of the Broadcaster for three years....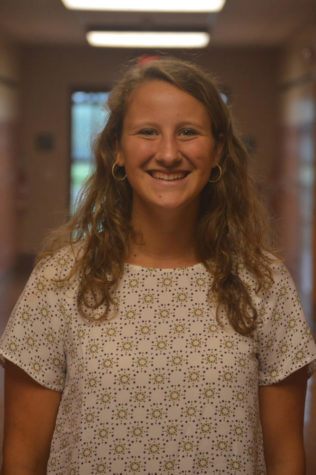 Elizabeth Newman, Layout designer
Elizabeth Newman is a layout designer for the Broadcaster. She is a junior at HHS and has been a part of the Broadcaster for two years. Elizabeth also...