GOP introduces bill to eliminate Department of Education
Just eight words is all it might take to change education in America forever.
Representative Thomas Massie (R-TN) introduced H.R. 899 whose aim is to abolish the federal Department of Education on Tuesday, February 7, 2017. Just eight words long H.R. 899 states, "The Department of Education shall terminate on December 31, 2018."
Coming on the same day Betsy DeVos was confirmed and sworn in as Secretary of the Department of Education, the libertarian-leaning Massie saw an opportunity. Since the time of President Ronald Reagan, conservatives have sought to eliminate federal oversight of education and the Department of Education.
"Neither Congress nor the President, through his appointees, has the constitutional authority to dictate how and what our children must learn," wrote Massie in a press release.
Massie's co-sponsors include Rep. Justin Amash (R-MI), Rep. Andy Biggs (R-AZ), Rep. Jason Chaffetz (R-UT), Rep. Matt Gaetz (R-FL), Rep. Jody Hice (R-GA), Rep. Walter Jones (R-NC), and Rep. Raul Labrador (R-ID).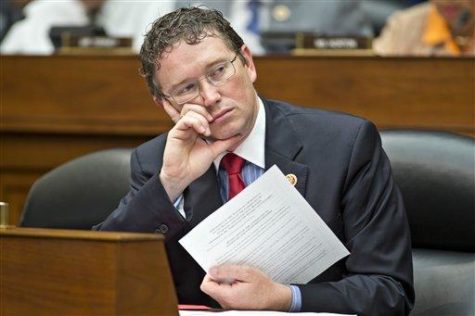 Proponents of the Department of Education cite the Taxing and Spending clause of the Constitution to support its constitutionality.  The clause states "The Congress shall have Power To lay and collect Taxes, Duties, Imposts and Excises, to pay the Debts and provide for the common Defense and general Welfare of the United States; but all Duties, Imposts and Excises shall be uniform throughout the United States."
The key phrase here is "general welfare."  The 1979 law establishing the Department of Education specifically mentions this phrase: "The Congress declares that the establishment of a Department of Education is in the public interest, will promote the general welfare of the United States, will help ensure that education issues receive proper treatment at the Federal level, and will enable the Federal Government to coordinate its education activities more effectively."
The logic of the argument, in brief, is Congress has the right to promote the general welfare of the citizens.  Also Congress can fund this effort through taxes.  The effective education of the population promotes both individual welfare and the U.S. economy.  Additionally, effective education of the U.S. population is best managed in a centralized department.
Therefore, Congress can, and did, create a federal Department of Education.  However, this is not stopping conservatives from working on abolishing it.
Senator Ted Cruz (R-TX), during his failed 2016 presidential bid, proposed eliminating five cabinet level departments: Education, Energy, Housing and Urban Development, and Commerce.  He also proposed eliminating the IRS and 25 other agencies.  The goal was to save taxpayers $500 million each year.
If abolished several large federal Department of Education programs could be in limbo.  The Secretary of Education oversees a staff of 4,400 with a 2016 budget of $70.7 billion.  Of that the largest single expense is the Pell Grant.  The Pell Grant, which aids students with a financial need to attend college, had a budget of nearly $29 million in 2016.  
Additionally the Department of Education is the largest single lender for higher education loans.  As of 2016, nearly $1.3 trillion in student loan debt was held by the Department of Education with over 42 million individuals aided by these funds.
The Department of Education also sends funds to states and school districts directly.  One of these programs is Title I which accounted for $14 billion in the 2016 Department of Education budget.  Title I funds supports districts with low-income students.  As of 2010, the last year data is available, Title I funds were used in over 56,000 districts to support over 21 million students.
Title IX which protects people from "discrimination based on sex in education programs and activities that receive federal financial assistance," according to the Department of Education.  As of January 2016, over 300 colleges and universities were under investigation for Title IX violations, according to an investigation by the Huffington Post.
The Department of Education's Office for Civil Rights, "ensures equal access to education, from preschool through higher education." In 2016 the OCR's budget was $131 million, and they received 16,720 complaints which each required investigation.  The OCR also "resolved more than 66,000 civil rights cases during the Obama Administration."
The Office of Special Education Funding is "dedicated to improving results for infants, toddlers, children and youth with disabilities ages birth through 21 by providing leadership and financial support to assist states and local districts."  A large part of their work is administering grants related to the 2004 law Individuals with Disability Education Act or IDEA.  The grants to states for IDEA were $11.7 billion in 2016.
Where Republicans see a large budget and federal meddling in state and local rights, Democrats see an agency tasked with raising education standards and equity nationwide.
The chances for H.R. 899 to become law are unclear, however.  While Republicans control the White House, House of Representatives, and Senate, considering the volume of public outcry over the nomination of Betsy DeVos there may be more Republican senators to support keeping the Department of Education.