World Records Set by Harlem Globetrotters
Hang on for a minute...we're trying to find some more stories you might like.
When it comes to putting on a show, the Harlem Globetrotters don't fail to impress.
Guinness World Record Day was on Sunday, November 20th, 2016 this year. This day encourages people from all over the world to set and or break new records however weird or creative they are. The Harlem Globetrotters, an exhibition basketball team known for their comedy on the court, are now holders of nine world record titles. The team set these records in honor of this day. Five of these records previously had belonged to a famous YouTube group who specialize in trickshot videos called Dude Perfect.
The Globetrotters posted a video on YouTube of a compilation of the records they had broken. The video started off with Ant Atkinson, the 5'9" showman, breaking the world record for the longest blindfolded basketball shot. The previous record belonged to Cody Jones of Dude Perfect with 71 feet. Atkinson made the shot from 73 feet and 10 inches which is now the new world record.
The next record broken by the Globetrotters was the world's longest basketball hookshot. In 2015, Harlem Globetrotter Big Easy Lofton, the tallest showman for the Globetrotters, broke the record for the longest hook shot from 61 feet and 4 inches away. Then, in May of 2016, Tyler Tony of Dude Perfect stole the record from Lofton when he made the shot from 70 feet. Big Easy wanted his record back, so on November 20th, he reclaimed his title. Lofton took his record back after he made the shot from 72 feet and 6.25 inches.
Shooting a basketball doesn't come naturally to everyone, but it sure seems like it came naturally to Globetrotters Forward Thunder Law.
"I bet you guys have never seen this before," Law exclaimed, as he set the world record for the farthest under-one-leg basketball shot.
Law was successful in making the shot from 52 feet and 5 ½ inches away, which is farther than a half court shot, and is a new world record.
The next record in the video was broken by the duo, Atkinson along with another Globetrotter, Cheese Chisholm. These two together broke the record for most three-pointers made by a pair in one minute, alternating shots. Two members of the Globetrotters held this record earlier this year, but then in May of 2016, Jones and Coby Cotton, both of Dude Perfect, tied the Globetrotter's record of 19 three pointers.
Although the two members of Dude Perfect did not officially take the record from the Globetrotters' record, Atkinson and Chisholm wanted "their" record back. They each made 11 total three-pointers, so together they had broken the record and set a new high of 22 three-pointers.
According to the Guinness World Records website, the Globetrotters thought that making the longest basketball hookshot could be harder, so Lofton, who had already broken the record for the longest hookshot, decided to try the record again blindfolded. The record to beat was set in May of 2016 by Garrett Hilbert from Dude Perfect at 55 feet. Lofton successfully broke the record when he made the shot with a distance of 58 feet and 2 ½ inches.
Last year, in 2015, the Globetrotters were out to set world records like these – it has become a tradition of theirs. Another one of those records was the most slam dunks by one person with a single ball in one minute. In 2015, Zeus McClurkin, a forward for the Globetrotters, set the record of 15 dunks. Even though this was his own record, he wanted to raise the bar for other people who could potentially break it.
McClurkin once again attempted the record, and he once again broke it. He showed off his speed and endurance to produce one more slam dunk than he did last year. He was able to get 17 dunks; however, only 16 of them counted, for he barely ran out of time on the 17th dunk, so the very last one could not be counted towards the new record.
Next, Law stepped up again. Well actually, he sat. Law decided to take the record of the longest basketball shot sitting on the court. The record was previously held by Jones who made the shot from 55.08 feet. Law also successfully made the shot but farther away. The new longest basketball shot sitting on the court is 58 feet and 9.25 inches.
Atkinson and Chisholm went back at it again with more three-point records. This time, the two individually attempted the same record – most three-point shots made in one minute with a single ball. Atkinson went first of the two. He was able to make 10 shots, which is and was the current world record. He made 11 threes total, but like McClurkin's dilemma, he ran out of time and decided to throw the ball up backwards behind the back and swished it. The shot still did not count even though it was impressive to say the least.
Chisholm took his turn after Atkinson, and he did almost the same thing as Atkinson. Chisholm also made 10 three-point shots and almost ran out of time. Luckily he was able to get off one last shot which brought him to tie with Atkinson and the current world record, making both men record holders for most three-point shots with one ball in one minute.
"I think it's amazing. I was trying to beat him. . . but the fact that we both made 10 is still a record, and I'm happy to be here with one of my teammates," Chisholm said.
Lastly, the Globetrotters set one more record – most bounced basketball three-pointers in one minute attempted by McClurkin. He started off slow since he didn't get one in until his sixth attempt. He started to pick up the pace and, gradually, after 29 shots, he tied the world record. McClurkin was just able to make five baskets after he made his fifth basket on his 27th shot. McClurkin is now a holder of two records. Along with the other Globetrotters, he brought the team's total to 9.
The Globetrotters record breaking performance illustrated the team's creativity and athleticism in action. The team vows to continue their streak, and will be found at next year's events looking for more records to add to their belt.
The Globetrotters are bringing their athleticism, theater, and comedy to Hershey on February 16, 2017, at Hershey's very own Giant Center. This season, the team is supposed to debut basketball's very own 4-point line, according to Hershey Entertainment. It will be debuted during their 2017 tour – and possibly be used in Hershey, too. The 4-point line will be 30 feet from the basket, which is 6 feet and 3 inches farther than the current NBA 3-point line.
The Hershey Entertainment website states that "every game will showcase incredible ball handling wizardry, rim-rattling dunks, trick shots, hilarious comedy and unequaled fan interaction."
About the Writer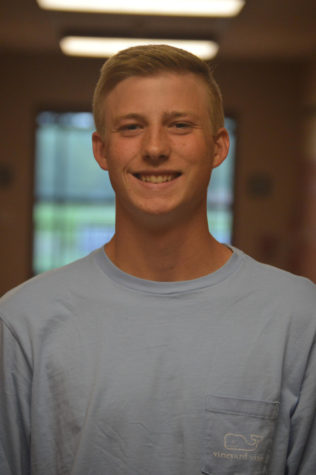 Evan Spinney, Reporter
Evan Spinney is a reporter for the Broadcaster. He is a senior at HHS and has been a part of the Broadcaster for three years. Evan also is on the Hershey...