Hershey Ice Hockey Sweeps Past Cedar Crest
The Hershey Ice Hockey team defeated Cedar Crest 7-3 on Wednesday, November 10, 2016 at Klick Lewis Arena.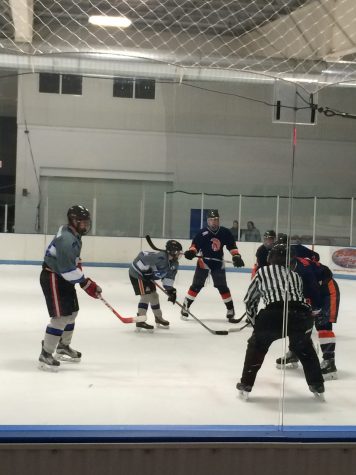 Hershey controlled the puck the majority of the first period. Junior, Sammy Steele, scored three goals and freshman, Ian McDonald, scored one, leaving the Cedar Crest Falcons with a score of zero.
The second period started off with the Falcons scoring a goal on Hershey's freshmen goalie, Christopher Larkin, at 4:25.
Shortly after junior Sabatino Iannarello scored a goal for Hershey at 5:49. The period ended with Steele scoring another goal, leaving him with a total of four goals in the game. Cedar Crest slipped the puck past Larkin one additional time during the second period.
The Falcons scored another goal in the beginning of the third period. Less than a minute later, McDonald scored his second goal of the game. The game ended with Hershey claiming a 7-3 victory.
Hershey hockey plays next on Friday, November 10, 2016 at Klick Lewis Arena against Cumberland Valley at 7pm.