Get to Know a California School: Mission Viejo High School
Beaches, smiles, and lots of sun. Who knew that would be the norm for some kids on a school day?
That is what life during the school year is like for many kids in Southern California, and many other schools on the west coast. Abby Casey, freshmen at Mission Viejo High School, has lived in Mission Viejo, California all her life. She grew up surrounded by the beach and relaxation California has to offer.  According to Casey, Mission Viejo High School is a fun school with plenty of activities, similar to those of Hershey High School. However, Casey noted there are also many interesting differences such as the campus size, amount of students, and technology use.  
Casey explained that Mission Viejo has slightly over three thousand students, three times the population of HHS. The school's first period begins at 6:56 in the morning, which is about 40 minutes before HHS start time. Its periods are about 54 minutes long, with seven periods in one day. The students are then released at three in the afternoon, so the average student's day is substantially longer than Hershey High School's.
Additionally, Mission Viejo has a late start day every Tuesday, and they begin at 7:20 in the morning. Once every one to two months, the students also have what they call a minimum day. The students arrive at 7:08 and are released at 12:40; similar to a half day at HHS.
"It's nice to get a break once a week, it gives us a chance to get our work load done that we have for the week," said Casey.
HHS students are expected to move from class to class within a four minute time frame. In contrast, Mission Viejo's school is spread out on a large campus with multiple buildings that classes are in. Because of this, students get six minutes between classes and an additional ten minute break after third period to get some time to relax during their school day.
"We're rarely ever in a rush. We just take our time class to class, none of us really think anything of it," said Casey.
Despite the large campus with multiple buildings, Casey explained that the school only has two bathrooms.
"Honestly, I couldn't tell you why we only have two bathrooms. Most students avoid using the bathroom at school as much as possible," laughed Casey.
Casey also added that the school has rules about where different grades can and can't go. She stated that the freshmen and sophomores only have certain areas on the campus they can go, and there are lines around the school that they can't cross over.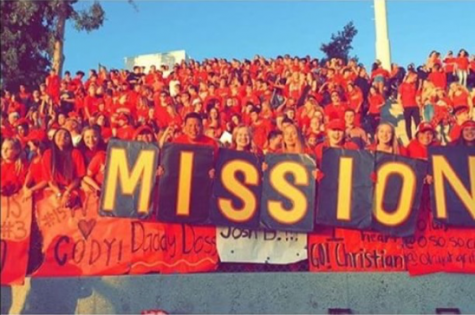 Resembling Hershey, MVHS has most sports typical high schools have to offer. They have all sports except hockey; the sports they do have include water polo, soccer, basketball, baseball, track, lacrosse, and football. Out of all the different sports Mission Viejo offers, Casey explained that football is the most popular sport for kids to play and root for.
"Football is HUGE at our school. Everyone gets so into the games," said Casey.
Additionally, over recent years technology has become a common item found in schools all around the United States, and the world. In fact, according to Ed Tech Magazine, 74 percent of surveyed educators said technology is the key to helping them expand on classroom content; the same percent said technology is a motivational tool.
According to Casey, MVHS is not big on technology. The majority of teachers don't allow cell phones to be out or used on a daily basis, unless instructed differently. Moreover, Casey added that most teachers use little to no technology with students. Most of their work is traditional, with their notes all on paper and handwritten.
"It would be nice to be more advanced with technology for school; I feel like I would enjoy school more if we did," Casey said.
Despite differences between HHS and MVHS, Casey explained that it has been her normal school day all her life. She stated that the school is a very tight knit community, and she's very happy where she is.
"I love being a Diablo! I wouldn't want that to change," Casey said.