HHS Alumni Makes Change in Low-Income Schools
The chocolate bubble was popped. She stepped out, looked around, and realized nothing was as it seemed.
That is the feeling Hershey High School Alumni Kelsey Kodak felt when coming back to Hershey after graduating from Bucknell University in 2015. Shortly after graduating, Kodak found the Urban Teach program and chose to dedicate her time to Maree G. Farring Elementary School in Baltimore, Maryland. From the moment Kodak entered the school, she noticed many changes in the children's family life and their lives in general.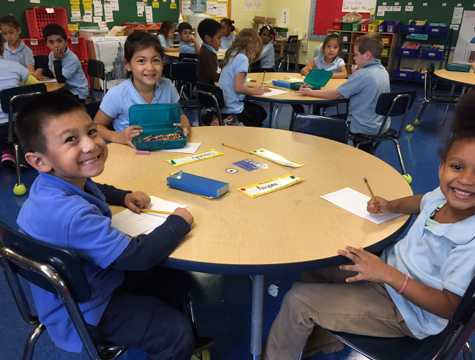 According to the CEO of Urban Teach, Jennifer Green, Urban Teach is a four year preparation program for those who want to teach specifically in urban schools. It prepares teachers to be the best teachers they can possibly be by giving a year of residency in a host teacher's classroom. It also gives immense amounts of coaching and mentoring and allows you to take fifty two credits of graduate level courses to earn a dual-master's degree.
Kodak finished her residency in 2015, and she now has her own classroom teaching kindergarten. Now that she is teaching on her own, Kodak explained that she has gotten a chance to really bond with her kids and also see a new world outside the "Hershey bubble."
When Kodak began working at Maree G. Farring, she learned that many of the children have some tough obstacles to deal with at home. Crushing poverty and living in a food desert are only a few of these challenges. The school is very diverse, with many different ethnicities and cultures. Also, with the school being in an urban setting, the school is 200% over capacity, meaning there are double the amount of students attending the school there should be.
Likewise, Kodak added that funding is a severe issue for the school. She explained that the funds given to the school are allocated to best serve the students, so there sometimes have to be trade-offs.
"My school focuses more on hiring great teachers and getting good resources instead of spending money on rebuilding or fixing old parts of the building." said Kodak, "We really can't do all those things at once."
Those issues, however, do not take away from the children's excitement for school.
"My kids are amazing! They genuinely love being in school and they match my level of excitement in the classroom," Kodak said.
Kodak also added that even though the student's parents have their own struggles around their homes, they want what is best for their kids and will do whatever they can to help them succeed.
"They are great at working with their student and are always communicating with me at arrival and dismissal time.  It is clear to me that all of my families want the best for their student," Kodak said.
However, from growing up in the "chocolate bubble" to moving to busy Baltimore, Kodak had an immense change in perspective about multiple things. Kodak explained that growing up in Hershey gave her access to many opportunities that helped benefit her future. However, once she moved to Maryland she realized not everyone has similar opportunities based on the zip code in which they were born.
"To me, it's not fair that the quality of a child's education is directly dependent on where they live when it is often something that is beyond their control," Kodak stated.
Recent studies shown by Urban Teach prove that the education difference has resulted in an achievement gap. Kodak related back to Hershey by saying children within the Derry Township School District are set up for success with opportunities that help the children continue to succeed in life.
"I can now see that a lot of the negative stereotypes that people hold about my students and their families from these types of areas are incorrect," Kodak stated.
Kodak expressed that she wants to continue to work in Maree G. Farring with her kids, but she could see herself eventually moving on to mentoring future teachers, similar to how she was mentored.
"I'm excited to continue teaching here with these wonderful kids," Kodak said.