HHS Community Day Teams up with Four Diamonds
Hershey High School fights for the kids.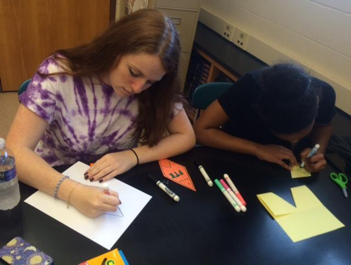 On October 7, 2016, Hershey High School Community Day held it's second annual community day consisting of different clubs and sessions for students to participate in. The Mini-THON community day session is run by Ms. Licata, Mrs. Blosky, student chairs, and The Four Diamonds Foundation. Four Diamonds is an association that raises money in order to help patients or families that are dealing with pediatric cancer. Their mission is to conquer childhood cancer by teaming up with the Hershey Medical Center Children's Hospital through giving advanced care and support.
Mini-thon comes from the original idea known as "THON". THON is a 46 hour fundraising event run by students at The Pennsylvania State University. At THON, everyone has to be on their feet either dancing or walking around. All of the money raised at THON supports Four Diamonds. Schools all around the world participate in smaller versions of Thon, know as Mini-THONs. Hershey High School was the first high school to participate in their own mini-thon.
HHS's Mini-THON is twelve hours long, running from 6 a.m. until 6 p.m. This year, it takes place on March 31st running into April 1st and the theme is "All Around the World". This year mini-thon will be run by 39 student chairs, two co-advisor teachers, and other voluntary chaperones.
"It is a lot of fun and an important way to give back to your community and to those who are in need of help," said Micah Nicholson, sophomore morale chair.
Throughout the school year, HHS is planning to have many fundraisers and other ways that students can get involved. Some easy ways students can get involved are by raising money for Four Diamonds, attending mini-thon, or participating in fundraisers.
An upcoming fundraiser mini-thon will be holding is the Fall Festival. The festival will be taking place on October 14, 2016 here at HHS. There will be a haunted hallway, pumpkin painting, and baked goods for sale. All of the money made will be going to our mini-thon.
In the mini-thon session today, about 9 students attended. The session started off with an informational video from the leadership summit about what mini-thon is and how it helps, after that an informational "get to know mini-thon" kahoot was played. At the end of the session, participates got a chance to create diamonds with supportive phrases on them that will be hung up around the school. All of this being done for the kids.