Star Spangled Protest
Where do you stand? Or do you sit?
It all started with Colin Kaepernick, an NFL quarterback for the San Francisco 49ers, when he sat for the National Anthem on August 26th, 2016. Kaepernick sat for the third preseason game in a row; however, it was the third game he sat that gained the media's attention. Kaepernick told the media his reasoning behind sitting was because he felt that the National Anthem negatively represented people of color.
"I am not going to stand up to show pride in a flag for a country that oppresses black people and people of color," Kaepernick said.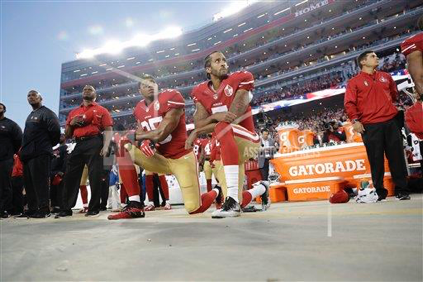 That is what sparked the increase in athletes and other celebrities exercising their first amendment right, freedom of expression, according to Nyiem Flucas, a black Hershey High School (HHS) football player. Brandon Marshall, Denver Broncos Linebacker, knelt during the national anthem as well as four players for the Miami Dolphins. Kansas City Chiefs cornerback Marcus Peters raised his fist during the national anthem. Multiple players for the Seattle Seahawks locked arms. All these actions show unity with Kaepernick and his beliefs.
Flucas strongly disagrees with Kaepernick's actions.
"I think sitting for the national anthem is way worse than [kneeling, locking arms, or raising fists] honestly," Flucas said, "It's one thing to fight for your rights, but it's another thing to sit for what you stand for, your country."
However, it's not just athletes who have taken a part in Kaepernick's actions, but celebrities have too. Chris Brown, 27 year old singer, sat down during the National Anthem at the 15th anniversary of 9/11 charity basketball game in Los Angeles, California. According to Us Weekly, Brown was called "vile" and "disgusting" on Twitter for the move. Other celebrities, such as Kate Upton and Rob Lowe, expressed their feelings about the actions of Kaepernick and others who have joined the protest as well.
Upton wrote on her instagram, "Protest all you want, and use social media all you want. However, during the nearly two minutes when that song is playing, I believe everyone should put their hands on their heart and be proud of our country, for we are truly blessed."
All of this ties back to the "Black Lives Matter" protest that started three years ago. Three women – Patrisse Cullors, Opal Tometi, and Alicia Garza – started the trend out of anger and frustration after George Zimmerman killed a 17-year-old black male and was tried as not guilty in Sanford, Florida, and other events such as the shootings in Dallas, Texas. Many people outside of the Black Lives Matter protest have adopted the phrase "All Lives Matter," according to Ari Shapiro, White House correspondent for National Public Radio (NPR). According to Garza, those people misinterpreted what she meant by that.
"When we say all lives matter, we're talking about aspirations that don't exist right now. All lives do not matter. Not everybody has what they need to ensure their basic survival. And so when we say black lives matter, we didn't ever say only black lives. What we said is black lives matter, [too]," Garza told Shapiro, on NPR's Morning Edition.
In addition to what Garza said about black lives mattering, Cullors expressed her thoughts on racist police officers.
"We also hold the tension of what continues to happen in black communities, which is being brutalized, killed and abused by the state, often at the hands of law enforcement," Cullors said.
Despite the fact that black communities may be abused by the state or from law enforcement, Angela Grabuloff – HHS teacher in the Social Studies department, and war veteran – disagrees. Grabuloff thinks that, often times, we look at the bad things people do and apply it to the whole group of people which leads to stereotypes. She said we don't look at the many other people in the same "group of people" who Grabuloff believes are doing good to their community and helping everyone they can.
"I just sadly feel like [the protesters are] looking at a very small portion of what are in general very good people. We look at the few bad apples and then try to apply it to the rest of the good," said Grabuloff, "We take those few bad apples, and [we] make it a bigger deal than it truly is if you look at how many good [people] are out there."
About the Writer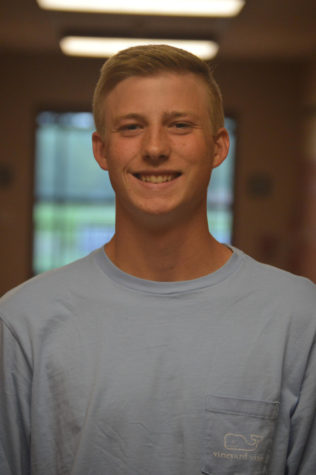 Evan Spinney, Reporter
Evan Spinney is a reporter for the Broadcaster. He is a senior at HHS and has been a part of the Broadcaster for three years. Evan also is on the Hershey...