iPhone 7 Hits Stores September 16
People everywhere have more to look forward to than just the end of another week.
The iPhone 7 will be available in Apple stores on Friday, September 16. The store will be swarmed with customers trying to get a glimpse at the new and improved phone. Wireless headphones, dual cameras, and water resistance are a few of the features that have been causing a lot of buzz among consumers. Many questions have been raised, such as: How is it water resistant? How has the battery life improved? What's different about the new iOS? Why was the headphone jack removed?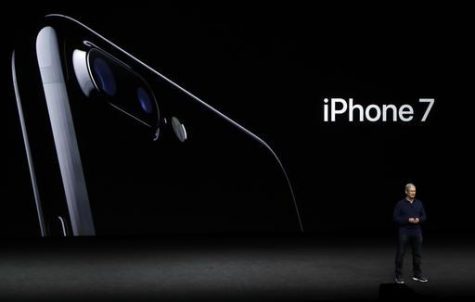 Dan Riccio, Apple's Vice President of hardware engineering, can explain why they changed the headphone feature on the new phone. Riccio believes that it is a matter of waste of space on the new, thinner model. "It was holding us back from a number of things we wanted to put into the iPhone," Riccio said. "It was fighting for space with camera technologies and processors and battery life. And frankly, when there's a better, modern solution available, it's crazy to keep it around," he said.
To compensate for the missing headphone jack, Apple came out with wireless headphones called AirPods. According to Apple, they can sense when they're in your ears and pause the music as soon as you take them out. For those who prefer the regular headphones, Apple will  include a 3.5mm Lightning adapter with the iPhone 7 that  attaches wires to the AirPods.
Another new feature is the dual cameras. Apple has been constantly improving the cameras over the years, and the iPhone 7 may prove to be the best yet. According to the New Yorker, Apple's iPhone 7 Plus is the first major phone to combine the dual-lens system to immense computing capabilities. The iPhone 7 Plus has two lenses—a 28-mm.-equivalent, 12-megapixel lens and a 56-mm.-equivalent, 12-megapixel telephoto lens. It costs around $769 (or even higher).
Water-resistance is another feature that might be why the phone is this expensive. According to Forbes, Apple added IP67 dust and water resistance which allows the phone to survive being fully submerged in water for up to 30 minutes. The problem that many people have of dropping their phone in the toilet is now solved.
However, it might not be the best idea to go swimming with it, since the water pressure might break a seal. It's also not covered under warranty. As the Guardian puts it: "So while it's meant to be waterproof, if it's not, it's your fault."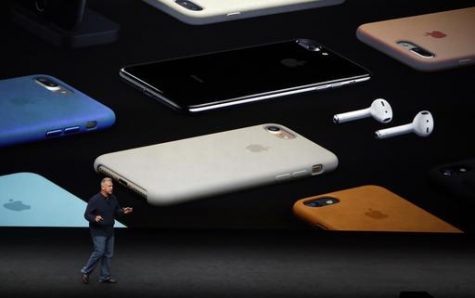 With a new phone also comes a new operating system. The phone comes with the new and improved iOS 10, available now to all iPhone users. Apple CEO Tim Cook calls iOS 10 the "world's most advanced mobile operating system." According to CNN, the messages have changed as well. You can now do things like send Mac-themed stickers, GIFs, and "invisible" messages. However, you can only send these messages among other iOS 10 users.
A minor change that might bother some consumers is that to unlock an iPhone now, you no longer swipe left but hit the home button. If you use a fingerprint to unlock every time, you won't notice. According to CNN, if you swipe left now, you will instead see a new screen with weather, calendar and other bites of information. 
Despite the new changes, the iPhone 7 will retain the same shape as both the iPhone 6 and 6s. On September 16th, join the crowds in the Apple Store to see what has changed and what has stayed the same.