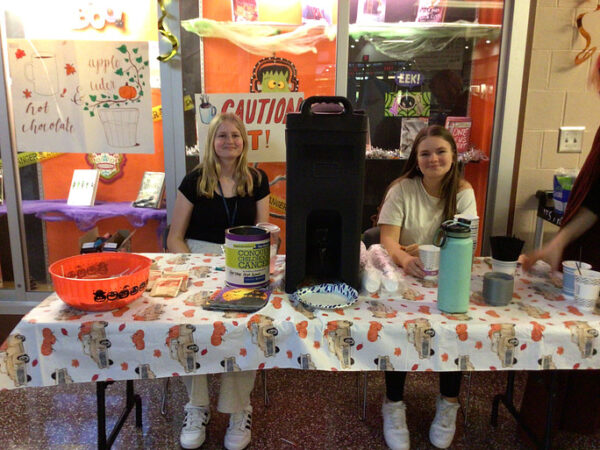 Freshmen Millie Grutza and Madi Crum help out at the Hot Chocolate table. Mini-THON members volunteered to help out with activities in the Fall Fest. (Broadcaster/Ashley Bu)
Hershey High School's Mini-Thon hosted the Fall Fest event on October 13, 2023.
The Fall Fest raised a total of $1012. Admission to the event was $10, with proceeds going to the 4-Diamonds Fund which supports cancer research and treatment for children with cancer.
Multiple clubs participated in the Trick-or-Treat Hallway event by giving candy to trick-or-treaters. The Hershey High School GSA handed out multicolor beaded bracelets as well. Other participating clubs included the Science for All Club, Film Club, Racial and Religious Relations Club and the Compassion for Animals Club.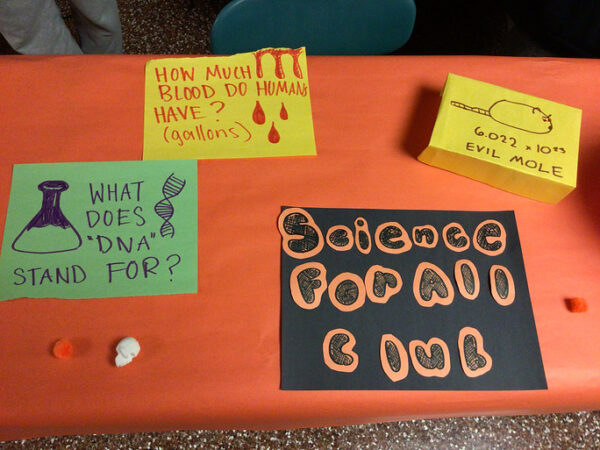 Various science fun facts and questions are posted on the Science For All Trick-or-Treat table. The Science For All Club was one of several Hershey High School clubs that participated in the Trick-or-Treat Hallway. (Broadcaster/Ashley Bu)
People who attended the event could get free hot chocolate and apple cider, but they were able to donate money at the table for the Four Diamonds. The hot drink table also had a candy bowl for trick-or-treaters.
Other activities at the Fall Fest included a pumpkin painting table, a spooky Halloween movie in the library, and a Haunted Hallway with spooky decorations.
Hershey Mini-Thon will be hosting more events throughout the year to raise money for the fight against cancer. A school-wide Powderpuff Game will be occurring around Thanksgiving, and a winter-themed event will be held before Christmas. The Mini-Thon event will occur in 2024, with the theme to be determined.
"I love being part of something that's for a good cause and something that's so fun, and you get to impact a lot of kids in a positive way," said Mini-Thon Outreach Director Noufa Sarwani.
To learn more about Mini-Thon, visit the Hershey High School Mini-Thon Instagram page @hhsminithon or their Linktree, which includes the DonorDrive.