Hershey Girls Lacrosse Wins Mid-Penn Crown
The Hershey Girls Lacrosse team defeated Cumberland Valley 12-5 on Thursday to claim the Mid-Penn Championship.
The Trojans were led, as they have been all season, by Hanna Russell who scored a game-high four goals. Meghan McDonald, Abby Hand, Emily Beitzel, and Avery Weaber chipped in two goals apiece to propel the Trojans to victory; goalie Olivia Fox had an excellent first half in net, and totaled 8 saves on the night.
The win serves as the Trojans' third consecutive Mid-Penn crown, and discounting the 2020, COVID-canceled season, Hershey has won five straight Mid-Penn Championships dating back to the 2018 season.
After an uncharacteristically poor first half, in which the Trojans failed to grab hold of the game and went into halftime with a 4-4 stalemate, Hershey exploded in the second half. The Keystone Division Champions rode the momentum of a few early second half goals to a convincing victory in the end, outscoring the Eagles 8-1 after halftime.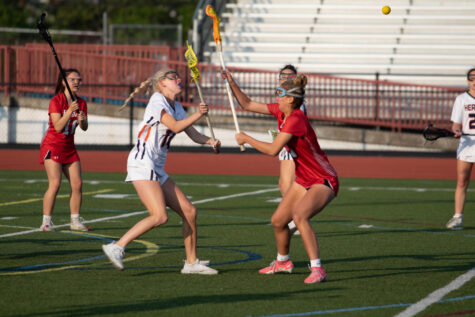 The Trojans move to 19-0 on the season, and will now face greater challenges to their perfect season in the PIAA District 3 Class AA playoffs. Hershey will receive a first round bye and will play the winner of the Red Land/Kennard Dale first round clash next Thursday. Due to their status as the #1 seed, the Trojans will play every district playoff game at home.