Market on Chocolate Reopens for 9th Year
After a long wait, Hershey's Market on Chocolate is back for yet another year, while their goal remains the same as always:  "We want to bring diversity," said Market organizer Tracy Brown, "we want to bring vibrancy to Hershey."
The Downtown Saturday Market, or "Market on Chocolate," is back for its 9th year running, aiming to showcase the variety of culture and products that Hershey and the surrounding Central PA area can provide. Some of the goods sold include food and beverage, jewelry, wellness, home, and health classes. 
Brown said that the location of the Market on Chocolate is a major factor to its success. Centered just next to the Hershey Fire House, the Market primarily inhabits a grass space and parking lot, equipped with tree coverage and open to view from Chocolate Avenue. The Market is truly in the epicenter of downtown, in walking distance of the major downtown neighborhoods, and a short jaunt from virtually every corner of Hershey. Additionally, Brown stresses the importance of free parking that surrounds the area.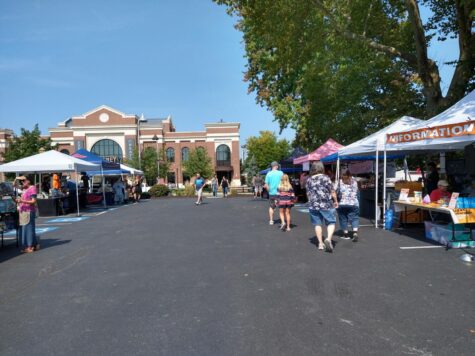 Some of the vendors travel from Lancaster, Dillsburg, and other locations outside of Hershey to sell their goods at the Market. According to Brown, the organizers do not have much of a filter when accepting applications, but the key being that they "have to produce their own" products and goods. This helps stress the artisan nature of the Market.
Their reasons for attending vary accordingly. First and foremost though, engagement is key. Lisa Leader is the owner of Lavender Brook Farms, a Hummelstown-based artisan focused on producing home, bath, and body products based on the lavender growing in her backyard. She needs markets like Hershey's to sell, for she doesn't have her own place. She regularly sells to many markets, but Hershey is her favorite. Leader stressed the idea that tourists provide a completely different audience and give a uniqueness to the Hershey Market.
Another normal, yet crucial motive for artisans is simply outreach. Endo Cafe, a Lancaster-based coffee shop, has a building in Lancaster city. However, according to Jamie Sitler, one of the restaurant's owners, going to the Hershey Market helps them get "a feel for other communities." 
Endo is also a CBD-inspired shop, mixing the medical cannabis product with coffee as well as selling more intense CBD products. It's not a normal vendor in any way, but Sitler said, "Hershey's been very open to it…that was exciting for us because it can be an intimidating product because a lot of people don't know much about it."
The market has given a place for startups, such as Jul-Bel Bars, a wellness bar company run by Kristen and Julia Michaelson. Kristen and her husband just moved from Hershey to Middletown within the last calendar year, and Julia recently graduated from Hershey High School. Both are affected by certain health issues that make normal, sugary health bars an impossibility to consume with regularity. The two had been to the market before and decided that they would launch their business in their hometown market. The startup has not been without success. 
"I bake them every week…to sell on Saturdays, and we have sold out every Saturday we've been here," Kristen Michaelson said. Even with that kind of success, Kristen has just been thrilled with the ability to experience such a diverse market on a week to week basis. "The market itself, just the way they go about bringing all these people together," Michaelson said, "we've just been really thrilled to be a part of it." Michaelson said that even on a quiet day, the interactions are still worthwhile; it's a testament to the human connections that can be forged at such a place as the Market on Chocolate. A booming success for a Hershey native, and everyone is pleased.
The true story of the market can be told in the customers, the townspeople, walking and supporting their peers in a relationship that is the essence of Hershey. Sadie, a 6 year resident of Hershey, was just sitting on a park bench, bags of purchased items next to her, reclining to a cover of "Free Falling" in the background. "It's a beautiful place, it's a really peaceful place," she said. "You're going to find nice people and good energy, and you're just going to enjoy the music and also all the varieties of things to buy."
The Market will be around "as long as Hershey will have us," said Brown. It's hard to imagine Hershey without it. And true to Brown's statement, the Market on Chocolate kicked off its 2023 season on June 3rd, and will be open every Saturday through September 2nd.