Hanna Russell: HHS sophomore working toward college lacrosse
The season is cutting close, and this astonishing player is ready to take off into a great year of lacrosse. 
It's going to be an intense year for Hershey, but for girls lacrosse, there is lots of hope. Sophomores that are interested in this sport, are in their peak time of commitment. 
Hanna Russell is a high school lacrosse player, who positions herself as a high attacker. She has been playing for 6 years and plays for Hershey High school, as well as her club team, Xtreme, which takes place in Lancaster, PA. 
Her interest in the sport started off with the inspiration of her sister, Hailey.  Hailey decided to play lacrosse, and Hanna has always looked up to her sister. So, she began attending practices for her first rec team, and knew it was a sport for her. 
She has attended multiple camps throughout her time with this sport, including East Carolina, JMU, and Virginia Tech. She mentions the importance of playing at different places, as she can take in many eye-opening experiences. 
"It's essential to know how it feels to play with different girls, and in different environments, " said Russell.
Hanna sees lots of lacrosse in her future. She has visited many colleges as well, including East Carolina, Virginia Tech, University of Virginia, James Madison University, George Mason, University of North Carolina, Richmond, and William and Mary. She is most interested in Virginia Tech so far. 
Something that Russell finds extremely important is her diet and nutrition, especially as an athlete. Her meal plan often consists of lots of carbohydrates and protein. She uses these food types for her bulks and energy. 
"Before and after games I tend to eat a lot more than normal. It makes me feel a lot better," said Russell
Russell manages her athletic responsibility by balancing out her academics and athletics. During school she likes to get her work done as soon as possible, even in the car ride home if she needs to.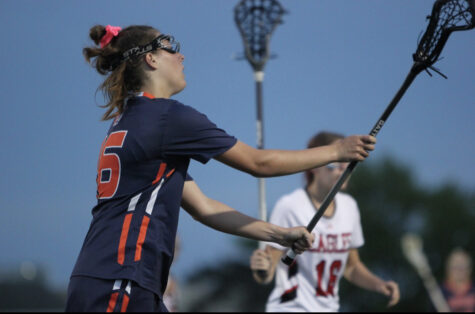 Russell recalls her worst sports performance was during a home lacrosse game. She mentions how she was so anxious for that game, and she kept dropping the ball. It affected her playing time, as she was pulled out for a little while. 
"I needed to reset my mind, so that I would be ready to go back in and do my best," said Russell.
Teamwork is also really important to player Russell. She finds it crucial to be a team player, rather than an individual one. 
Her biggest achievements in lacrosse have come from winning an attack MVP award, a varsity letter, and helping the team to win mid penn champions last season. 
There's not much that Russell dislikes about this sport, but if she had a complaint it would be any time she spends on defense. It's not a position she enjoys, as she would rather be scoring on the other side of the field. 
Although she may have a con or two, she overall enjoys every aspect of lacrosse. 
"I love that lacrosse is all about teamwork and helping each other out," said Russell. "It really is a sport where I can bond with my teammates well."
In a coach, Russell looks for positivity, encouragement, and courageousness. That is exactly what her coach brings.
Coach Corrie Anderson, the head coach for the Hershey girls lacrosse team has been coaching women's lacrosse for five years. Four of which have been for Hershey. 
"Hanna definitely brings a lot to the attack. She brings intensity and also some height," said Corrie. 
Corrie, and the rest of the team, is excited to see how Russell does, as she will take part in a new position this year, on the draw circle. She has grown lots of confidence, especially since last year. It will definitely reflect on the team this year. 
Overall, the team is very proud of how far Russell has come. 
One of her teammates, Zoey Hess is also a sophomore player this year. She's been playing for many years as well, a couple of them, being with Russell.
"It will definitely be exciting to watch her play again this year, especially since she has grown in many ways," said teammate Zoey H