A Wild 2 Weeks for Hershey Boys Basketball
8 games in 14 days. The Hershey Boys Basketball team has been on a roller coaster ride over the past two weeks.
Full of highs and lows, the team has managed to find relatively positive form, going 6-2 in the time period. In the span, the team's key players have remained unchanged.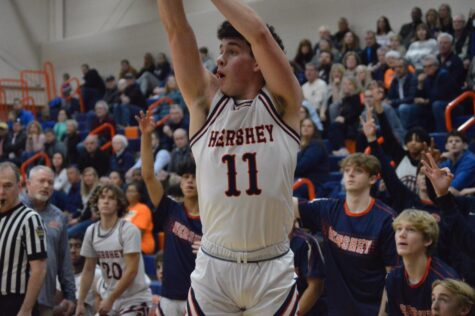 Matthew DeDonatis has led the team in scoring from game one, while point guard Marcus Sweeney continues to run the show with his passing. The same five players have started every single game, quite an achievement given the high density of competitions. 
Despite the throughlines from the beginning of the year, Coach Paul Blackburn says that there has been a stark difference during this stretch.
"As we came along, even though we won some games and were playing well at times, I didn't feel good," said Blackburn.
According to Blackburn, there has been a boost of morale within the team, leading to better results. He attributes it to his coaching experimentations.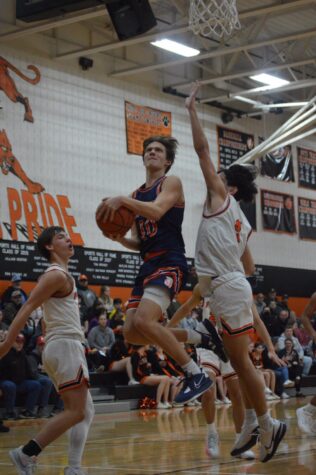 "I really feel a lot of the early-season losses were my fault," Blackburn said. "I think now we're starting to settle in and I'm figuring out what guys' roles can be a little bit more. I'm able to use a [few] more people in tight situations and close games. And I think that's made a difference in the morale of the team, effort of the team, execution of the team, productivity of the team."
At the beginning of the season, Blackburn had a tighter rotation, regularly incorporating a mere 6 or 7 players. Naturally, as the team began to average multiple games every week, the physical element dictated changes. However, Blackburn believed that there was a mental aspect as well.
"If I say 'Hey I'm going to play more guys' and then I come out the next night and play six guys, then I'm not doing what I say", said Blackburn. "I think the kids are learning to trust me as a coach, and I'm learning to trust them more as players."
This trust has led to much more success. Non-starters such as Jake Moyer, Alex Murray, Enzo Delia, and Derek Guzman have begun to see more minutes. All in all, Blackburn has created a rotation of around 10 players, a significant increase from earlier games. This collection of players is different from previous years. Last year's team ran out a group of players that were almost entirely over 6 feet tall. This year's group isn't gifted in the size department, but that hasn't hindered results.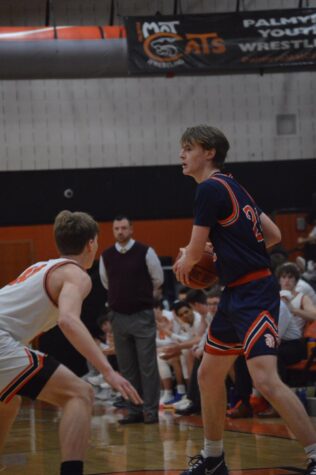 "I guess people will say when they see us, 'We don't pass the eye test for a basketball team,'" Blackburn said.
He says that from the outside, people will look at the team and question how they can be successful despite the size disadvantage. However the team has overcome the physical challenges, something about which Blackburn is ecstatic.
Blackburn says, "But I share it with the kids all the time, referees' compliments after a game, fans emailing me, comments from people in the basketball community who scout our team, other coaches, and say 'Your kids play so hard and so well together, once again another great Hershey team.'"
It is this collective, hard working mentality that Blackburn is most impressed with. Compliments about the team being greater than the sum of its parts is like music to his ears.
"That makes me glow," Blackburn says, "because it doesn't matter what you look like, it matters how good of a teammate you are and how willing you are to buy into the team…When you can play in a system and play your role, it makes us impossible to play against–people do not like playing against us when we guard them. So when we can concentrate and [play great defense], I think we're a formidable foe for most people on the schedule."
Leading on defense is Senior Joey Alander. Alander is one of the leaders in deflections and steals, and he has taken more than double the amount of charges as anyone else on the team. His tenacity and work rate jumps off the page, and Blackburn opines about his development. Even as a junior coming off the bench, Blackburn said, Alander would guard the opponents best player.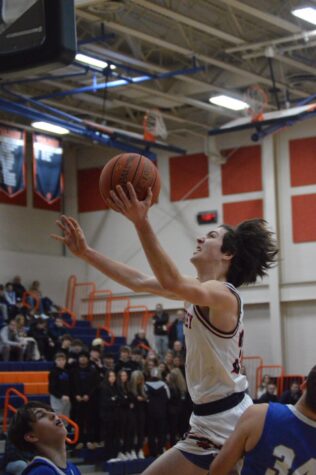 This year, Alander has worked on his scoring output as well, finding his place as a top-3 scorer for most of Hershey's season. However, the scoring title has long been ensconced in the hands of another man; Matthew DeDonatis (nicknamed DeDo) leads the team by around 80 points in the season scoring charts. However, Blackburn attributes his scoring to the play of yet another key contributor.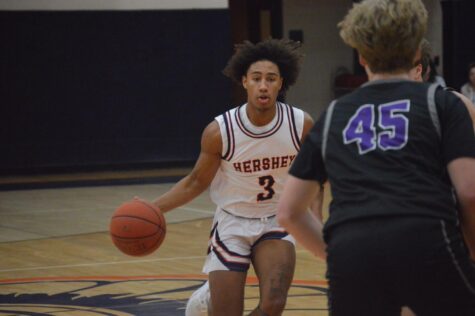 "[DeDo] plays with Marcus Sweeney. Marcus Sweeney is probably going to be one of the all-time assist leaders in school history, one of the winningest point guards in school history because he started for four years…They quietly communicate with each other on the floor, and there's a quiet confidence amongst them," Blackburn said.
This dynamic duo has led the Trojans' offense, with DeDonatis leading in scoring, while Sweeney's passing has lifted Hershey time and again. However, along with Hershey's two bell cows, as well as the previously mentioned Alander, Blackburn is exceptionally high on his two junior starters.
"The other two starters are underrated, Logan Richards and Eamon Callahan, because people don't see all the beauty of what they do for a group," Blackburn said.
While their effects might not be as show stopping as DeDonatis's scoring or Sweeney's assisting, Blackburn remains over the moon about Richards's and Callahan's fundamentals. He says that they do everything well, more than enough to contribute to the group.
"As you move forward, people will say 'Marcus–4 year starter, DeDo–top scorer, Joey Alander–it's obvious what he can do for us, who are these other two, are there other people…?'" Blackburn said. "No, [Richards and Callahan] are perfect, they're perfect for us. It's not a beauty contest for anybody, but for us it's what makes us feel good about our team."
It is this confidence that Hershey intends to ride to success. In the last 2 weeks, Hershey has picked up key victories against Keystone division opponents such as Milton Hershey, but has slipped up to Cedar Cliff in shocking fashion—shocking, because the Trojans had destroyed the Colts by 38 points just a month earlier. Despite the peaks and valleys, Blackburn and the Trojans have their eyes set on a large prize.
"We always want to try to compete for the Keystone Championship, that's our goal every year, that's part of our mission statement, that's who we are," said Blackburn. "In my 12 years here, we've never finished lower than third; so we're always in the mix, we might not always be the champion, but we're always there. So I just want to be there, I want to be there at the end."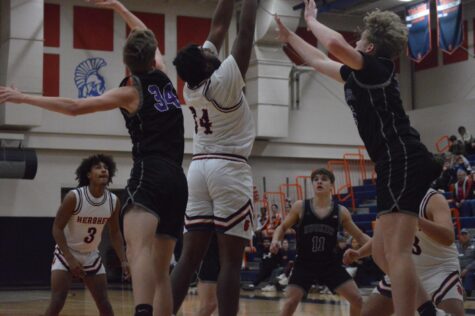 Currently, the Trojans sit third behind Mechanicsburg and Milton Hershey. Hershey split their regular season contests with the crosstown Spartans, and they travel to Mechanicsburg to avenge their home defeat to the Wildcats earlier this month.
Beyond division success, Hershey aims to triumph on a district level, where they sit in 9th place after bouncing up and down in the rankings.
"At the end of the regular season we want to be in District playoffs," Blackburn says. "At the end of the year we want to be able to host a playoff game too, that's always nice, we want a home crowd. We want to qualify for states…So our goal is obviously, if we qualify [for postseason tournaments], our goal is gonna be 'We want to win this tournament.' And then we move on from there."
It is all in front of the Trojans as they enter the homestretch of the regular season. With lessons to learn from and successes to cherish, the Trojans and their coach know that tougher challenges still remain. But for now, an actively coalescing unit will attempt to continue winning ways in the hope of a long-awaited trophy